Jamaica in London (Part 1)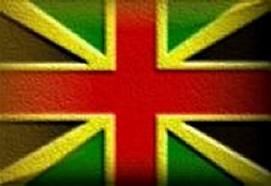 In 1948, close to 500 Jamaicans arrived in London aboard the SS Windrush. This was the first large group of  West Indian immigrants after the second World War and marked the start of the Caribbean migration to the UK. These skilled workers (nurses, engineers, etc) came to help Britain recover after the war. Many found work and settled in the area of Brixton.
Today, it is estimated that about 4% of Londoners are wholly or partly of Jamaican heritage. While Brixton is one of the most popular, Jamaican communities have sprung up all over London with the highest concentration in the South London boroughs of Lambeth, Lewisham & Croydon. On my recent (and very first) trip to London, I set out to find some of the influences of Jamaica and Jamaicans throughout the city.
Here's a Part 1 of Jamaica in London
Brixton
When you think Jamaicans in London, Brixton usually comes to mind first. It is one of the largest and the most famous of the Jamaican expatriate communities and of course the first place I visited.
I stayed in an apartment I found on Wimdu, an international accommodations provider, which provided access to a washer and dryer and a fully stocked kitchen. The grocery store was right across the street, and most importantly, I had access to public transportation right outside my door, making getting around a breeze!
As I exited the tube station at the Brixton stop, a calypso band playing on the corner welcomed all those arriving. I followed the sights, smells and sounds through the Brixton Market and was approached as if I were walking down Hope Road in Half Way Tree, "Greetings Empress, bless!" Munching on salt fish patties and rocking to the alternating dancehall and reggae tunes I continued on passing fruits and veggies, hair products, food, clothing and other miscellaneous items being sold in the streets. Brixton isn't a Jamaican only community, but, even as I stopped for a cup of fresh mint tea at an Eritrean internet cafe, Jamaican influence shone through. After several hours of exploring and chatting, I finished the night at a birthday party with Jamaicans who now call London, Toronto or New York City home. I was served  plate of fried fish and rice and peas with an ice cold Red Stripe. If it weren't for the cold temperatures, I could have sworn I was in Jamaica.
Marcus Mosiah Garvey
Marcus Mosiah Garvey was a Jamaican political leader, Pan African orator, publisher, entrepreneur and founder of the Universal Negro Improvement Association (UNIA) and African Communities League.  He was later named Jamaica's first national hero. Garvey's philosophies, known as Garveyism, influenced many including Rastafarians and the Nation of Islam. In a 1937 speech in Nova Scotia, Garvey said the following words:
"We are going to emancipate ourselves from mental slavery because whilst others might free the body, none but ourselves can free the mind. Mind is your only ruler, sovereign. The man who is not able to develop and use his mind is bound to be the slave of the other man who uses his mind…."
Snippets of this speech were published in Garvey's publication, Black Man, and later popularized in Bob Marley's Redemption Song.
New Year's Day 2012, en route to Jamaica Fire Water, I randomly happened across Mr. Garvey's birth place, a small brightly colored wooden home with a zinc roof in St. Ann's Bay, St. Ann, Jamaica.
Fast forward several  months later and here I was in Hammersmith, where Marcus Garvey called home from 1935 until his death in 1940.
A gentleman stopped me as I was taking photos of the property and thanked me. He had came to London from Jamaica at a young age and through the years had passed this street hundreds of times and never looked up or knew the significance. He insisted on snapping my photo before driving off with his Jamaica flag hanging from the rear view mirror of his van.
There are more dedications to Marcus Garvey around the city, including Marcus Garvey park and the UNIA office where he and others worked.
Jamaica in London: Part 1 2 3
For more examples of Jamaican Culture around the world, check out the rest of the series, "Jamaican Culture in." Have a photo or story you want to share for the series? Send your ideas to me at  info [at] absolutetraveladdict [dot] com.

Disclaimer: Three nights of London accommodation were provided by Wimdu. All opinions are my own.
Today there is lot of unsuspected state which force individuals to take medicines. What can we order without recipe? There are sundry drugs for male emasculation cure. If you're concerned about sexual problem, you have to learn about "viagra substitute" and "where to buy viagra". What is the most substantial info you must know about "how to get viagra"? Don't forget, view "where to get viagra". What are the treatments sexual problems? The most common undesirable side effects of such medications like Viagra is stuffy or runny nose. Contact local health care provider if you have any dangerous side effect that bothers you. Do not keep out-of-date medicaments. Take them to your local apothecary which will dispose of them for you.
Share the love...

0


0

3

1

0