In less than 36 hours, I'll finally be on my way to London for World Travel Market. Despite the chillier than preferred temperatures, I'm quite excited for the line up of events and my first *new* country of 2012!
The highly anticipated Ultimate Travleista Week, where I'll be joining Tracey of One Brown Girl, Monique of Mo Travels, Tawanna of Mom's Guide to Travel and Carol of Girl Gone Travel, will finally be getting underway in our
Go with Oh apartment. We'll also be joining other travelistas for the second stop of  Wandermania on Tour hosted by Lola Akinmade-Akerstrom. If you haven't seen her work, get familiar. She's an outstanding photo-journalist! And to top it all off, we'll be meeting at Caribbean Scene Royale, where I definitely see an order of oxtail cassoulet in my future!
But before the World Travel Market craziness ensues and the travelistas arrive in town, I'll be flying in a few days early to do a bit of my own London exploration. I secured  a different apartment in Greenwhich with help from Wimdu, a Berlin based accommodations provider, and I'm pretty geeked about my pre-World Travel Market plans. Being the Jamaica addict that I am, I'll be keeping my eyes peeled for Jamaican culture in London to be featured as a part of a new series "Jamaica in…". And because no trip is complete without a cupcake (or 4), I'll be sampling the best London has to offer via London Cupcake Tours and a special order from Marnie Searchwell Cakes.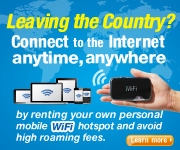 Want to tag along? I'll be staying connected and avoiding crazy cell phone charges with unlimited internet via a Mi-Fi device provided by XCom Global.  Stay in the loop via Facebook, Twitter and Instagram or sign up for alerts in your e-mail inbox:

Have any must see/do London recommendations? Leave your thoughts in the comment section below!

Today there is lot of unsuspected condition which force individuals to take medicines. What can we order without recipe? There are sundry drugs for male impotence cure. If you're concerned about sexual problem, you have to learn about "viagra substitute" and "where to buy viagra". What is the most substantial information you must know about "how to get viagra"? Don't forget, consider "where to get viagra". What are the treatments sexual problems? The most common undesirable side effects of such medications like Viagra is stuffy or runny nose. Contact local soundness care provider if you have any dangerous side effect that bothers you. Do not keep out-of-date medicaments. Take them to your local apothecary which will dispose of them for you.

Share the love...

0


0

0

0

0