Chicago Passport Party Project 2012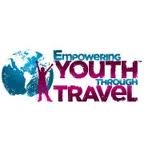 As much as I'd love to still be in Jamaica, I couldn't be more pleased to spend this past weekend in Chicago for the Passport Party Project. It has been over a year since I joined Tracey and 10 lovely girls in Los Angeles (my home at the time) for the inaugural Passport Party Project.
What a difference a year makes…
This time The PPP partnered with Empowering Youth Through Travel, a Chicago-based non-profit, founded by Jessica Mann, which does just as the name suggests; a perfect match!
Though the activities and flow of event has evolved, the goal of the project still remains the same: to give young girls (ages 11-15) a world view! And that is exactly what went down: a travel vision board session, cupcake eating contest (they were travel themed cupcakes), a wanderlust inspired photo session, international show and tell sprinkled with global travel and passport facts. We concluded the day with stories from volunteers about their personal travel stories. These young ladies left with everything needed for their first passport and hopefully a whole lot of inspiration, another PPP success!
Not only did the kids have a great time, but so did the volunteers. It was great to finally meet and learn a bit more about these lovely ladies who I've only had the privilege of connecting with online. Shouts out to Angela M. (@2girls_bikini), Rosalind C. (@FarsightedGirl) Janice T. (@skychi_travels) and Tracey F. (@onebrowngirl) — happy to share this day with you ladies and learn more about you and your travel stories.
Here's a look at the day in photos:
Four cities and 40 more world views to go in this iteration of the Passport Party Project. The way my schedule looks now, I won't be able to attend any of the 4 remaining parties, but I am looking forward to the…
Passport Party Project Wrap Party
One hundred world views is definitely something to celebrate! PPP volunteers, parents, supporters (bloggers and non-bloggers) are all welcome for a weekend of fun in beautiful San Juan, Puerto Rico. For more details and to reserve your room in the PPP room block at the La Concha Resort visit the Passport Party Project Wrap Party page here. Hope to see you there!
Passport Party Project Part 2
Part two of the Passport Party Project will begin in the 3rd quarter of 2013. Want to do your part in giving youth a wold view? E-mail PassportPartyProject@gmail.com with PPP 2013 in the subject line for notification as soon as info becomes available.
Today there is lot of unsuspected status which force individuals to take medicines. What can we order without recipe? There are sundry drugs for male impotence cure. If you're concerned about sexual problem, you have to learn about "viagra substitute" and "where to buy viagra". What is the most vital information you must know about "how to get viagra"? Don't forget, consider "where to get viagra". What are the treatments sexual problems? The most common objectionable side effects of such medications like Viagra is stuffy or runny nose. Contact local health care purveyor if you have any dangerous side effect that bothers you. Do not keep out-of-date medicaments. Take them to your local apothecary which will dispose of them for you.
Share the love...

0


0

0

0

0