A few weeks ago I featured Rogers' first international trip to Spain and I'm so happy to return this week with another first international trip report, this time from DJ, a young professional living in DC. In this post, DJ retells his story of preparing for his first trip out of the US to Japan.

As long as I can remember I have always wanted to see the land of the rising sun, but I'm not really sure what initially sparked my interest in Japan. Maybe it was the endless amount of video games I played as a kid or the hours of anime I watched growing up. Whatever the culprit, it was definitely a desire that wasn't going away.  So after years of wanting to visit japan, I finally made it happen. This is my journey…

Since this would be my first international trip I reached out April, my unofficial travel adviser, for advice on how to prepare, especially since she had just spent a week in Tokyo a few months earlier.

She made suggestions  on staying in touch without being killed by international roaming charges, getting around by train, converting money, and travel insurance from Worldnomads.com. Between April, other Japan blogs like Jamaipanese.com and my own research, I had more than enough to check out during my week-long visit. All that remained was to catch my flight.

The flight to Japan was long 14 hours, luckily I got to fly over in 1st class (trust me it made the travel time seem a lot shorter, I slept the entire flight.) I decided to get a hotel in Narita, Japan. I did this for 2 reasons. First, it was closer to the airport, and second it was much cheaper than most hotels in Tokyo. I really liked Narita; it was a nice country-like town. The food was cheap and really good and I fell in love with the OHSHO Grand (Best food the entire trip!!)

But there was one major downside to staying all the way out in Narita; the long train ride. It would take almost 2 hours to get to Tokyo from Narita. Because of this I lost a lot of time traveling (lesson learned, so next time I will try to get a hotel in Tokyo). Traveling on the trains in Japan was a little confusing for me, but it was a comfort to know that all the locations on the map were in English and most of the conductors spoke English and were able to give pretty good directions on how to get to my destinations.

While in Tokyo, I visited Akihabara "Electric City", anime inspired establishments, and various temples in the area. The temples were truly amazing.

Although I observed many new things while I was in Tokyo, what I didn't expect to see were the numerous restaurants and stores like we have in the states. From 7 Eleven to KFC, Tokyo had a lot of familiar places with their own Japanese twist to their menus. I tried to eat at some of these places, but I preferred the more genuine Japanese meals over these fast food foreign cousins.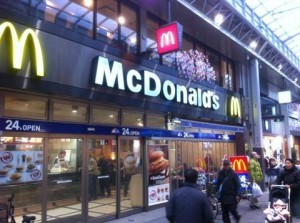 So after a few days of traveling back forth between Tokyo and our Narita hotel, I decided that it would be a good idea to get a hotel in Tokyo for my last night Japan (This would allow me to enjoy the night life of Tokyo). I decided to stay in the Prince Park Tower Tokyo Hotel for my final night (this was a beautiful hotel). I found a deal for this hotel using Agoda.com.
After checking into the hotel and taking a quick nap, I was ready to go check out the night life in Roppongi. One of the best things I realized about the night life of Tokyo is that the earliest time that anything closes is 4am. That is insane, especially since the train stops running around three.  It seems as if the streets of Tokyo were packed with people all night, like the city never sleeps.
I met a lot of interesting people that night: Nigerians trying to pull me into their so called gentleman's club, suspect female massage girls who seemed to only approach foreigners, and tons of other characters promoting their clubs and/or services. It was an experience that's for sure. To finish the night, I headed to Club Feria. Feria was without one of the best places to party, boasting 4 levels of pure fun, each with their own vibe. Time just flew while I was in there and since it was too late to take the train back to my hotel, Feria became my home for the night. Great music, lots of beautiful women, and awesome energy all around. It was without a doubt the best way to conclude my trip to Tokyo.
Didn't leave Feria until 6am, to say I had a blast would be an understatement. As I made my way back to the train I was surprised to see masses of people waiting to catch the first train out (it was somewhat surreal to see that so many people had stayed out just as long as I had).  Back to hotel to take a cat nap, after 2 hours of sleep I had my final meal in the hotel's high rise banquet hall.  The view from there was something that I will never forget as I prepared myself to depart from Japan.
This experience was a great one indeed. One that I plan to enjoy many times again in the future.  After this trip I can highly recommend Tokyo, Japan as a great place to experience, especially if you have never traveled outside of the US.
Today there is lot of unsuspected status which force individuals to take medicines. What can we order without prescription? There are sundry drugs for male impotency cure. If you're concerned about sexual problem, you have to learn about "viagra substitute" and "where to buy viagra". What is the most vital information you must know about "how to get viagra"? Don't forget, view "where to get viagra". What are the treatments sexual problems? The most common objectionable side effects of such medications like Viagra is stuffy or runny nose. Contact local heartiness care provider if you have any dangerous side effect that bothers you. Do not keep out-of-date medicaments. Take them to your local apothecary which will dispose of them for you.
Share the love...

0


0

3

1

0