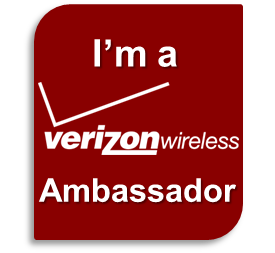 A couple of weeks ago I announced that I'm now a Verizon Wireless Ambassador. And with this honor, free phone and service, I'll be reviewing and sharing my thoughts on the Blackberry Z10.
Here's an update on my first 2 weeks as a Blackberry Z10 owner
It was a bit of a rocky start start with this phone. The new navigation called Blackberry Flow takes a little getting used to, but is a world of improvement from the click screen of the Blackberry Storm I once owned. I'm not really one to read instruction manuals, especially for phones (I just figure it out), but this site offers video demonstrations of tips and tricks to getting started and taking full advantage of your Z10. You can also download this Blackberry Z10 Gestures for Navigation cheat sheet that I've also found helpful.
The first thing I did before really digging into the phone was to grab a new case. There aren't many options available. I think I was presented with 3 in the Macon Verizon Wireless store and went went the OtterBox Defender case because I'm a bit rough with my phones and the other options just wouldn't cut it. Well I can say that the Defender case will definitely keep your Z10 safe, but it does impair the navigation a bit. The screen cover is a bit thicker than the screen film you would buy separately and I find myself having to make a few attempts to make selections on the screen or a few swipes to navigate to a new screen. I would love a pretty little commuter case, or even a Mophie but that may or may not happen. We'll see…
One cool feature I do really like is StoryMaker. With just a few clicks, I can compile photos and add music to make a quick video highlighting a recent trip or event. As a travel writer/blogger, this is an awesome way for me to summarize a day out in a new destination or on a tour and just upload to Youtube and share. Check out the quick video I made of the cherry blossoms around Macon, Georgia.
Any Blackberry Z10 users out there?
*Disclosure: I am participating in the Verizon Wireless Ambassador program and have been provided with a wireless device and three months of service in exchange for my honest opinions about the product.
Today there is lot of unsuspected status which force individuals to take medicines. What can we order without prescription? There are sundry drugs for male impotence cure. If you're concerned about sexual problem, you have to learn about "viagra substitute" and "where to buy viagra". What is the most substantial info you must know about "how to get viagra"? Don't forget, view "where to get viagra". What are the treatments sexual problems? The most common undesirable side effects of such medications like Viagra is stuffy or runny nose. Contact local health care purveyor if you have any dangerous side effect that bothers you. Do not keep out-of-date medicaments. Take them to your local apothecary which will dispose of them for you.
Share the love...

0


0

0

0

0