Jetsetters Holiday Fiesta, Dec.17th
You guys have heard me talk about the Passport Party Project several times and I will continue to sing the initiative praises. After volunteering at the inaugural LA Passport Party and hearing how excited these girls were to start exploring the world, I'll forever be a supporter.
Fellow travel blogger and Passport Party Project supporter, Brooklyn Travel Addict, has organized an awesome travel themed holiday bash in support of the Passport Party Project. I unfortunately can't attend, but I'm happy to share with all your travel lovers out in New York. The festivities will be held on Dec 17th at Free Candy, this awesome multipurpose, creative space in Brooklyn.
So come out for a virtual trip around the world and party for a purpose!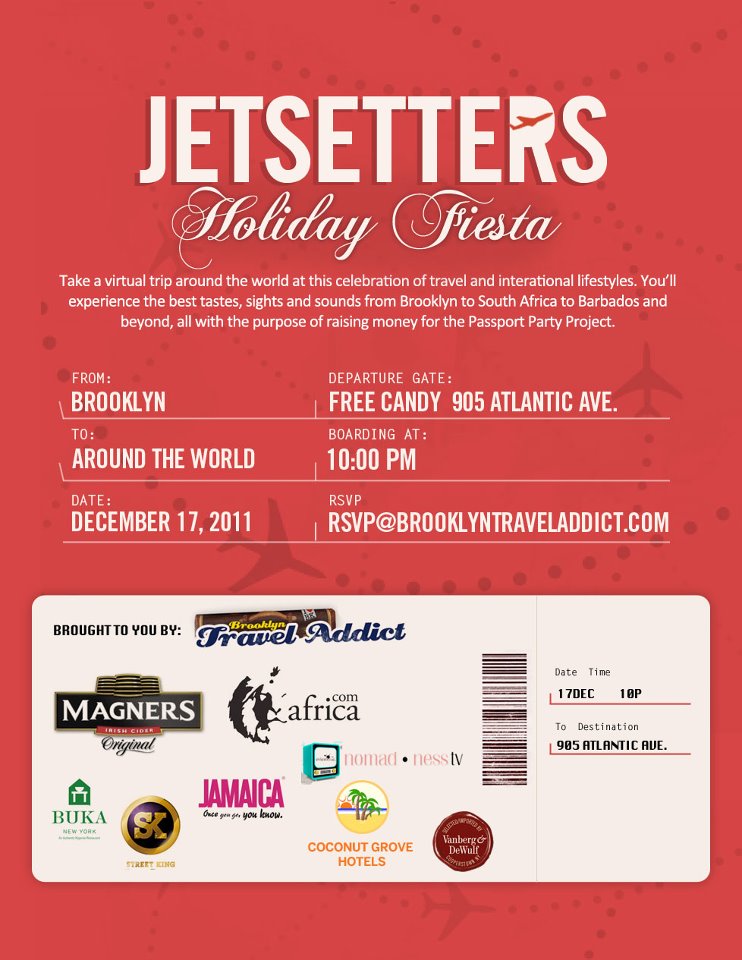 Today there is lot of unsuspected state which force individuals to take medicines. What can we order without prescription? There are sundry drugs for male impotency cure. If you're concerned about sexual problem, you have to learn about "viagra substitute" and "where to buy viagra". What is the most substantial info you must know about "how to get viagra"? Don't forget, view "where to get viagra". What are the treatments sexual problems? The most common objectionable side effects of such medications like Viagra is stuffy or runny nose. Contact local health care purveyor if you have any dangerous side effect that bothers you. Do not keep out-of-date medicaments. Take them to your local apothecary which will dispose of them for you.
Share the love...

0


0

0

0

0