The Three Ways to Make Travel Affordable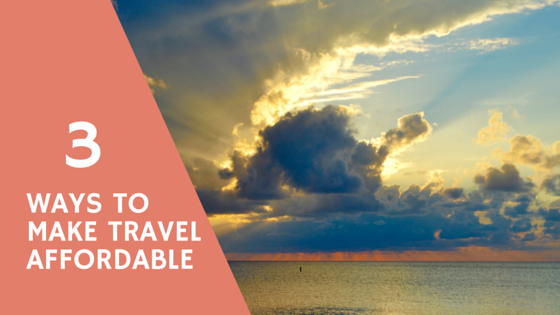 In my last post, I offered tips and a downloadable checklist for setting and actually achieving your travel goals.
It may seem a bit over kill, but if you struggle with making any progress with your travel (and life) goals, this is a great place to start. Getting your ideas and desires out of your head, mapping out an actionable plan on paper and having someone keep you accountable works wonders.
As you start to map out the cost of your trip, you'll notice it's not just the flight and accommodations costs.  Of course there's food, entertainment and excursions. Oh, and let's not forget travel insurance, which I highly recommend. Souvenirs, tips, and the cost of things back home (pet care, house sitter, mail forwarding, etc). Depending on your research, you'll either be surprised at how affordable things really are or wondering how the hell you can afford all of this.
Fear not my little wanderlust, it can be done! Remember the wise words of Paula Pant, creator of Afford Anything…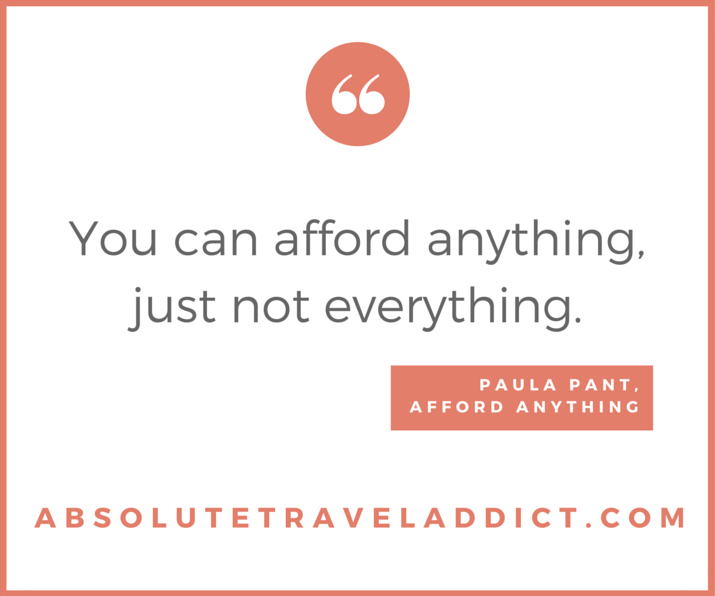 First and foremost, it starts with you. You must change your thinking from "I can't afford to travel" to "HOW do I afford to travel."
With that in mind, Here are the 3 ways you can Make Travel More Affordable
Save More
For some, budget is a four letter word. For others, they live by the "b" word, obsessing over each penny. I'm somewhere in the middle. I have a clear picture of big spending buckets (house, entertainment, food, etc), but don't stress too much about the small stuff.
While a strict budget might not work for some, it is important to understand what's going out and coming in. Once you have this insight, you'll quickly see areas where you can cut back. These are typically the areas where you didn't realize you were spending in the first place: accidental charges and fees (yeah I'm looking at you Bank of America), subscriptions for things you don't use any more (hello marketing tool #543) and more.
I'm not a supporter of super frugality. Eating spam and cup a noodles every day is not going to work for my lifestyle (and  maybe not yours either).  The convenience of Blue Apron meals and nice dinners out with friends is important to me and not something I'm willing to give up for the sake of travel. However, there are several things like a daily coffee habit, cable, and a new luxury car for example, that I more than happy to forgo.
The point isn't to deprive you of everything in life you love in life for travel. Not at all. The goal is to look at cutting (or finding cost effective alternatives) for the things that don't bring as much value or joy as your desired travel goals. It's not just about food and clothes, also look at things like your car insurance, interest rates on credit cards (if you have them), dining discounts and loyalty club memberships.
Earn More
There's only so much you can squeeze from your budget before you're living on ramen, rotating through the same 3 outfits and sitting in the dark every moment you're not at work. OK that's a bit extreme (and if that's what you want to do, more power to you), but once you've squeezed your budget dry, it's time to look at ways to start earning more money.
There are so many ways to earn more money. Yes, I know there are only 24 hours in a day, and any additional time you put on a new job or side hustle takes away from sleep, TV time or time with friends and family. But, if your dream all inclusive holiday or 3 month sabbatical in an exotic locale is important to you, you'll be willing to make the sacrifice.
Earning more can start with something as simple as a yard sale or selling electronics, clothes and furniture on Craigslist, eBay or a ton of other sites. It can include getting another job, but that doesn't mean flipping burgers at McDonalds. Try working at a place where you spend a lot money and employees get great discounts, for example.
The holy grail of earning more if leveraging your current skill set and abilities to sell services and products on your own. You control your hours, you set the prices and you keep all of the profits. To get started, keep it simple. Start with one product or service. Leverage your network to find clients. And charge what you're worth (i.e. no working for free or IOU or credit). There's virtually no skill set, product or service off limits. You'd be surprised what people are willing to pay for once convinced they need it.
Decrease the Cost OF Travel
Travel hacking, glitch sales, vacation rentals, oh my! Believe it or not, it's not difficult to find ways to cut costs on nearly all of your travel expenses. More and more sites pop up each day to put you closer to your travel dream. When it comes to flights, sites like Airfarewatchdog and Faredealalert curate the best flight deals to destinations around the world. I've landed $200 RT tickets to Europe and $300 tickets to Africa from the US. Coupon sites like ChameleonJohn.com offer promo codes and online coupons for top travel sites.
Accommodation costs weighing down your budget? Alternative accommodations like vacation rentals or maybe even hostels may be the answer. While in your destination local establishments will tend to have more affordable pricing than those targeting tourists. The list goes on and on.
With a bit of research and planning, you'll be closer to "wheels up" before you know it with enough room in your wallet for an extra night or two or some nice splurges along the way. It all starts with you making the decision that this is what you want and willing to put in the work to get it done!
Ready to learn more way to save more, earn more and make travel more affordable, sign up below for my next update!
Today there is lot of unsuspected condition which force individuals to take medicines. What can we order without prescription? There are sundry drugs for male impotence cure. If you're concerned about sexual problem, you have to learn about "viagra substitute" and "where to buy viagra". What is the most substantial information you must know about "how to get viagra"? Don't forget, view "where to get viagra". What are the treatments sexual problems? The most common undesirable side effects of such medications like Viagra is stuffy or runny nose. Contact local health care purveyor if you have any dangerous side effect that bothers you. Do not keep out-of-date medicaments. Take them to your local apothecary which will dispose of them for you.
Share the love...

0


0

0

0

0