Passport Day in the USA — April 9th, 2011
Passport Day is back again!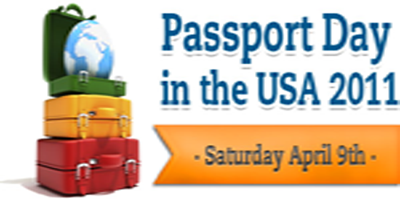 On April 9th, 2001, the US Department of State is hosting its 3rd annual Passport Day.  Passport agencies and several post offices around the US will be open and offering appointment free services to help you apply for or renew your passport!  To find a participating facility near you, visit the Passport Day in the USA page.
The video is a bit corny, but bravo to the Department of State for doing this for three years and counting. I've never been to this event and just found out about it at the Travel and Tourism Show in Los Angeles a few weeks ago. It is a great opportunity to stop procrastinating and finally get your passport, passport card or both, if you haven't already. Unfortunately I'll be traveling and unable to stop by, but I'm interested to hear how it goes.
Today there is lot of unsuspected condition which force individuals to take medicines. What can we order without prescription? There are sundry drugs for male emasculation cure. If you're concerned about sexual problem, you have to learn about "viagra substitute" and "where to buy viagra". What is the most essential information you must know about "how to get viagra"? Don't forget, consider "where to get viagra". What are the treatments sexual problems? The most common undesirable side effects of such medications like Viagra is stuffy or runny nose. Contact local health care provider if you have any dangerous side effect that bothers you. Do not keep out-of-date medicaments. Take them to your local apothecary which will dispose of them for you.
Share the love...

0


0

0

0

0