Dine with Locals with BonAppetour
This is a guest post by Amber C. Thompson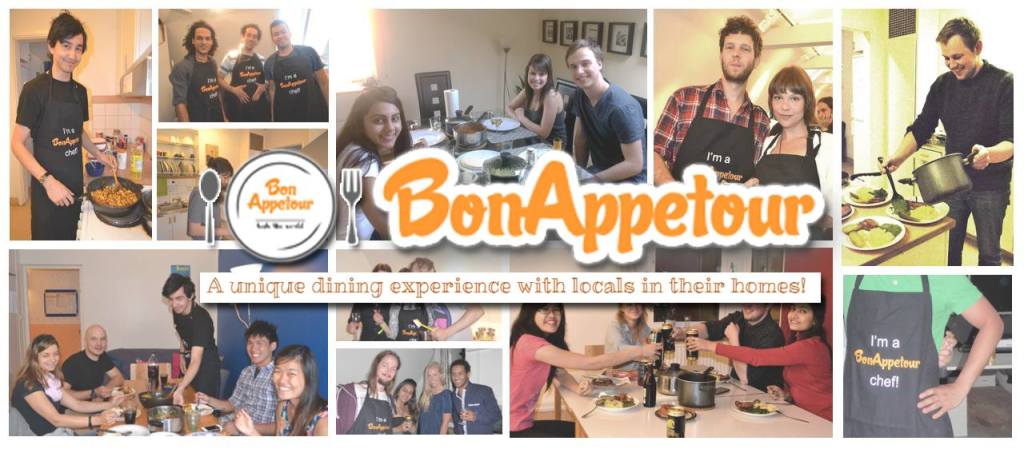 As a self-proclaimed foodie I love trying new restaurants and different dining experiences. Whenever someone asks what I do in my spare time, the first thing I typically blurt out is "Oh, I like to eat!"
In fact, I'm pretty much a walking Zagat guide to Atlanta for all of my friends looking to switch things up in the restaurant game. It's so exciting to try a chef's spin on a classic dish you've had many times before. Even more exciting, is to taste something completely new that you never would have come up with on your own. Chefs are true artists.
Something else I love as much as food is travel. In fact, the 2 things go hand in hand. You can't truly learn about a destination's culture without including their cuisine. I have been lucky to have some unique dining experiences.
Two of my favorite experiences were in Jamaica. I had the pleasure of eating at EITS; a farm to table restaurant in the Blue Mountains. My party was greeted with a piping hot family style feast. We had baked chicken, pasta, rice and peas, fried potatoes, and a smorgasbord of other Jamaican favorites. As a part of a group tour,  it was a great way for the group to talk and get to know one another. What else brings people closer together than passing around mounds of good food?
My absolute favorite dining experience thus far has been at Cliffhanger. This restaurant, also in Jamaica (Long Bay in Portland) sits on the edge of a cliff overlooking the Caribbean Sea. The restaurant owners, the Hanna's, had a lovely house right next door with cute dogs running around outside. We ate our food while overlooking the crashing waves. I had perhaps the best meal of my life; lobster with mango salsa and mashed potatoes. I got an overwhelming sense of family while dining there. It really felt as though the owners had let us into their home. These are the moments I live for.
As you can see I'm no stranger to unique dining experiences. I still look forward to trying out the next new thing and that's why I'm excited about Bonappetour. It's a social network that allows you to connect with locals around the world by visiting their "home restaurants." At roughly a year old, they already have 500 hosts spread throughout 50 cities all over the world. I was very excited to find that there are a few hosts in Melbourne, Australia since that is one of my must visit destinations for the coming year. It's so wonderful how connected the world is these days. From riding in hosts cars with Uber, and staying in their homes with Airbnb, it was only a matter of time before someone had the genius idea of hosting intimate family dinners.
BonAppetour is really easy to use. Just plug in your city and click on the host you want to meet. Regina, a host in Cape Town South Africa, offers her guest a special barbecue called a braai and encourages guests to BYOB. That sounds like a great time. Not only is it a great way to try new foods, but it's perfect for meeting new people and expanding your family. I've already signed up for BonAppetour and you should too!
Today there is lot of unsuspected condition which force individuals to take medicines. What can we order without prescription? There are sundry drugs for male impotence cure. If you're concerned about sexual problem, you have to learn about "viagra substitute" and "where to buy viagra". What is the most substantial information you must know about "how to get viagra"? Don't forget, consider "where to get viagra". What are the treatments sexual problems? The most common undesirable side effects of such medications like Viagra is stuffy or runny nose. Contact local heartiness care provider if you have any dangerous side effect that bothers you. Do not keep out-of-date medicaments. Take them to your local apothecary which will dispose of them for you.
Share the love...

0


0

0

0

0