You're Invited: Macy's Sizzle Showdown Grill Off
It's time to crown America's Grilling Guru!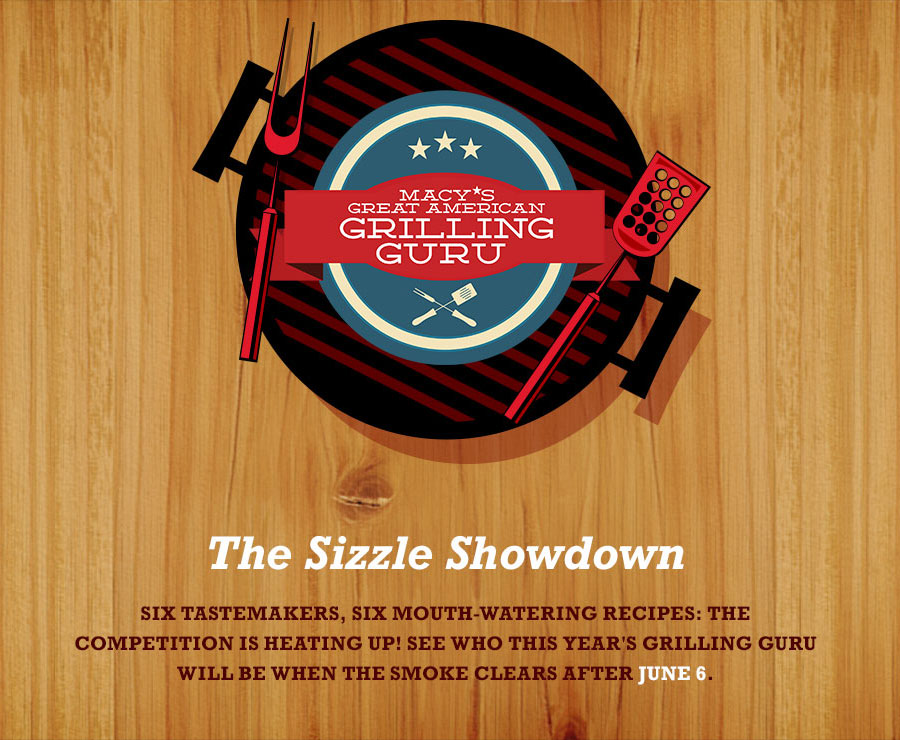 Six talented pitmasters will put their skills to the test at Macy's Sizzle Showdown Grill Off. Judged by Chefs Michelle Bernstein and Stephanie Izard, one will be crowned victorious and win a grand prize of $10,000 and a trip to the 2016 Macy's Fourth of July Fireworks show in New York City.
Attendees will enjoy great food throughout the competition and a FREE selfie stick (while supplies last). And for those inspired to step up their grilling game, $10 Macy's gift cards and other gift items are available for Macy's Home Department purchases of $50 or more.
I hope to see you there…
Event Details

Location: Macy's Cool Spring (Franklin, TN) parking lot
Date: Saturday, June 6th
Time: 1pm ET (Seating is first come, first served, so arrive 30 – 60 minutes before)
To RSVP, call 1-877-556-2297 (9AM – 5PM CDT Monday – Saturday and Sunday 12PM – 5PM CDT
Can't make it to Nashville for the Sizzle Showdown Grill Off? Be sure to check out Macy's Culinary Council for recipes, culinary tips, future events and more.
Disclaimer: I am a member of the Everywhere Society and Everywhere has provided me with compensation for this post; however, all thoughts and opinions expressed are my own.
Today there is lot of unsuspected state which force individuals to take medicines. What can we order without recipe? There are sundry drugs for male impotency cure. If you're concerned about sexual problem, you have to learn about "viagra substitute" and "where to buy viagra". What is the most vital info you must know about "how to get viagra"? Don't forget, regard "where to get viagra". What are the treatments sexual problems? The most common undesirable side effects of such medications like Viagra is stuffy or runny nose. Contact local soundness care provider if you have any dangerous side effect that bothers you. Do not keep out-of-date medicaments. Take them to your local apothecary which will dispose of them for you.
Share the love...

4


0

0

0

0