Around Atlanta: BMW Ultimate Driving Experience Tour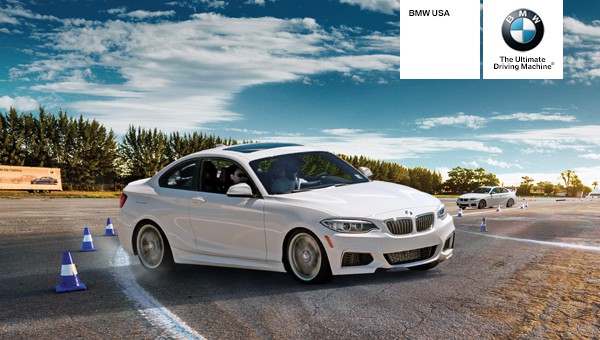 On March 21st BMW USA kicked off its 2015 Ultimate Driving Experience tour in Atlanta. For nine consecutive days, BMW enthusiasts convened at the Atlanta Motor Speedway to experience the best of BMW. Guests enjoyed everything from autocross, a 2 hour closed course driving session with a BMW professional driving instructor, to self guided street drives of the athletic 4 Series, sporty Z4, luxurious 7 Series and so much more.
I fell in love with the i8! This plug-in hybrid sports car goes from 0 to 60mph in just 4.4 seconds and has a fuel efficiency of about 112 mpg.  And apparently the Dubai Police Department loves it too, as they recently added it to their fleet of luxury cars.  
While the i8 is special, it's hard not to love many of the others models. Street drives of the 328d and the 750Li confirmed my love for the German auto brand. And I can't forget the sporty X4 xDrive35i, which I drove for my two hour autocross session with certified BMW instructors which satisfied my need for speed. Here's a snippet of my time on the track.

Overall it was a fun (and family friendly) day for car lovers and BMW aficionados. If you missed the event in Atlanta, check out the remaining dates of the tour in the chart below.

Not that you need any additional incentives to attend, but for those in the market for a new car: Attendees receive a $1,000 credit for the purchase or lease of a new BMW (valid for 6 months).
 2015 BMW Ultimate Driving Experience Tour Dates
| | | |
| --- | --- | --- |
| Date | City | Location |
| Apr 11 – 19 | New Jersey | MetLife Stadium |
| May 9 – 17 | Miami, FL | Hialeah Park |
| Jun 6 – 14 | Washington, DC | FedEx Field |
| Jul 25 – Aug 2 | Seattle, WA | Emerald Downs |
| Aug 15 – 23 | Los Angeles, CA | Santa Anita Racecourse |
| Sep 12 – 20 | Phoenix, AZ | Phoenix Raceway |
| Oct 3 – 11 | Dallas, TX | Lone Star Park |
| Oct 24 – Nov 1 | Chicago, IL | Arlington Racecourse |
| Nov 14 – 22 | New York, NY | Citi Field |
For more information and to register for The BMW Ultimate Driving Experience Tour visit: http://www.bmwusa.com/ude.
Happy travels,
April
Did you make it to the Atlanta stop of the tour? Have plans to make another date?
Today there is lot of unsuspected state which force individuals to take medicines. What can we order without recipe? There are sundry drugs for male impotence cure. If you're concerned about sexual problem, you have to learn about "viagra substitute" and "where to buy viagra". What is the most vital information you must know about "how to get viagra"? Don't forget, consider "where to get viagra". What are the treatments sexual problems? The most common undesirable side effects of such medications like Viagra is stuffy or runny nose. Contact local health care producer if you have any dangerous side effect that bothers you. Do not keep out-of-date medicaments. Take them to your local apothecary which will dispose of them for you.
Share the love...

0


0

0

0

0