Life in Accra: Preparing for your trip to Ghana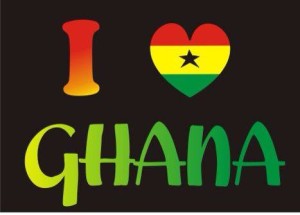 I can't believe it's already been 5 months and I still haven't really written anything about Ghana.
Forgive me?
Hopefully this will make it up to you…
I'll be spending the next few weeks covering my time in Accra in a series called THIS is Africa: Life in Accra, Ghana.
In this week's post, I talk about the basics: preparing for your trip to Ghana.
Enjoy!!
So, where is Ghana?
GAH-NA, in West Africa. Not GUY-AN-A.
From customer service reps to Facebook friends, a good bit of people seem to be confused about where Ghana is, most commonly confusing it with the South American country of Guyana. Here's a quick geography lesson. The African country, Ghana (in red), formerly known as the Gold Coast, is located on the western coast between Ivory Coast, Burkino Faso and Togo.
Got it? Great!
Why Did I Come to Ghana?
I've wanted to return back to Africa since completing my DNA testing with the National Geographic Genographic Project.  I'd visited South Africa before (which everyone keeps saying isn't really Africa *shrug*), but East Africa (Kenya and Ethiopia specifically) was actually my intended next destination. Instead, I landed in Ghana. A good friend from Jamaica came to Ghana for work  and invited me to come visit. I thought for sure 6-8 weeks would be more than enough time, but I'm still here…5 months later.
Preparing for the trip: Visas, Vaccinations and More, Oh My!
Visas: US Citizens need a visa to visit Ghana. The process is pretty easy. Determine what visa you are applying for, complete the application and submit along with your passport, photos, payment and stamped and addressed return envelope. I submitted my application to the Ghana Embassy in Washington DC (by mail) for a multi entry tourist visa. I opted for multi entry because I thought I may leave the country and come back before my departure back to the US. If you're just going for a vacation, single entry is fine, but be mindful of the expiration dates. Because I opted to expedite the process, I received my passport and approved visa back within 5 days with a 5 year multi-entry visa.  All visa application instructions and pricing can be found on the Ghana Embassy site here.
Vaccinations: All travelers entering Ghana should have a yellow fever vaccination and be up to date with all of the other routine vaccinations. I actually recieved my yellow fever vaccination in Jamaica. Doctors say there should be mild to no side affects, but I experienced strange bouts of dizziness for about 8-10 days afterwards and then everything was fine again. Visiting South Africa, I was up to date with many of the other recommended shots. Not sure what you may need? Check out the list of other vaccinations recommended by the Center for Disease Control and consult your health care provider or local travel clinic.
Medications: In addition to any other medications you need, antimalarial meds are highly recommended. There are several options on type of antimalarials, but seek recommendation from your local travel clinic. Many require you start taking the meds days or even weeks before your trip, so don't wait until the last minute like I did!
What to Wear: It's hot! Like every day, all day. Be sure to pack light weight, natural fibers and other clothing that will keep you cool and dry. It can get cool at night, after a nice rain and in higher elevations, so pack a sweater just in case.
Travel Insurance: I've been purchasing travel insurance for the last few years and will gladly continue. Please read Is Travel Insurance Worth it? for additional detail.
Money Matters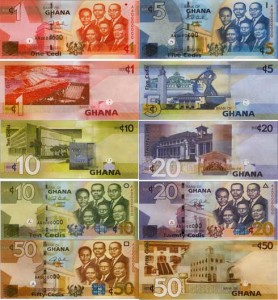 Ghana's currency is the Cedi.  At the time of publication, the exchange rate was 1 USD to 2.77 GHS. For the latest currency exchange, check out this currency converter.
Credit Cards: If credit and debit cards are accepted, Master Card and Visa are your best bet. Hotels like Movenpick will accept American Express, but not much else. I've noticed that even when using a credit card, transactions will still require a pin. You can request a pin for your credit card company, if you don't already have one.
Notify your Bank of your travel: Banks and companies around the world are on high alert for any credit card transactions originating in West Africa. Even after notifying my bank of my travels, I still had transactions declined and my accounts frozen more than once. This happened both in person at a store and even online. If you do need to do online banking or other financial transactions, do so from a secured wireless connection only.
ATMs: Every few weeks, I take a nice chunk of cash out of the ATM for all of my spending. The fees are minimal as I use Barclays Bank which is a sister bank to Bank of America who I bank with back home. Ghana really is a cash country and it's quite normal to see people pulling out wads of cash to pay for everything.
Where to Stay in Accra
There are tons of housing options in Accra for long or short stays. You have the bigger brands like Movenpick Ambassador Hotel and boutique options like Villa Monticello and La Villa Boutique Hotel. There are also a ton of locally owned and operated hotels, guesthouses and hostels as well.
I'm lucky that I stay in an expat community in the Airport Residential area. As the name suggests, my temp home is near the airport. It's also surrounded by embassies, other apartment communities, and is super close to main roads, grocery stores, malls, restaurants, etc. Comfort is important to me, especially when traveling for long term and working. I NEED hot water, A/C and stable internet in a clean and safe environment. Despite the economic growth, Ghana is still plagued with infrastructure challenges resulting in way too frequent water and electricity cuts. If that matters to you, be sure your chosen accommodation has a back up generator and secondary water supply.
Dying to know something about Ghana?
Ask away in the comments and I'll do my best to answer your questions is one of the upcoming blog posts/videos.
Today there is lot of unsuspected condition which force individuals to take medicines. What can we order without formula? There are sundry drugs for male impotency cure. If you're concerned about sexual problem, you have to learn about "viagra substitute" and "where to buy viagra". What is the most vital info you must know about "how to get viagra"? Don't forget, regard "where to get viagra". What are the treatments sexual problems? The most common undesirable side effects of such medications like Viagra is stuffy or runny nose. Contact local health care purveyor if you have any dangerous side effect that bothers you. Do not keep out-of-date medicaments. Take them to your local apothecary which will dispose of them for you.
Share the love...

0


0

0

13

0