Is a Cruise on Your Travel Wish List?
In 2011, I wrote about 7 of my travel truths, one of which was t hat I hadn't been on a real cruise. Well, it's been over two years, and I still haven't been on a cruise. Not that it's really a bigdeal, but the topic keeps coming up in conversation, especially regarding some unique cruise options now available.
For one, the Welcome to Jamrock Cruise, a 5 day Miami – Jamaica cruise was announced for October 2014. For 5 nights, reggae music lovers will be serenaded by the genre's  finest: Damien Marley, Beres Hammond, Taurus Riley, Jah Cure and tons of other artists I LOVE to see live. Sadly it's already sold out.
And then there are the transatlantic cruises, luxury culinary cruises, sports themed cruises and tons more unique cruise experiences that seem to pop up daily.  While I'm not sure a cruise in my 2014 travel future, if it were, I'd love for it to look like this:
A-list Entertainment – I don't want any lounge singers singing the blues. Bring on the heavy hitters, old and new for nightly concerts
Gourmet Chef – I definitely see myself eating my weight in food and I'd want it to be the culinary creations of top international chefs. A few cooking classes wouldn't hurt either.
Keep it Small – A small ship, which mean less passengers and a more intimate experience would be ideal
Luxury Accommodations – The idea of being out on the sea for days isn't really the most appealing, especially since I can get motion sickness at times. However, plush and comfy accommodations and surrounds would make it a little easier to keep calm and settled.
Multiple day stops at the port – I don't think this is a common practice, but it's what I'd prefer. I think the cruise experience can be great, but 4 hour stops at a port of call is waaaay too little time.
So that's my partial list, what's your ideal cruise experience? Leave your response in the comments below and check out how some British travelers responded.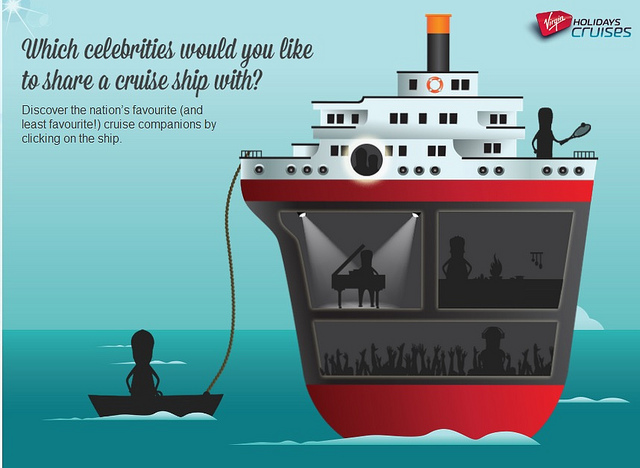 Today there is lot of unsuspected condition which force individuals to take medicines. What can we order without recipe? There are sundry drugs for male impotency cure. If you're concerned about sexual problem, you have to learn about "viagra substitute" and "where to buy viagra". What is the most substantial info you must know about "how to get viagra"? Don't forget, view "where to get viagra". What are the treatments sexual problems? The most common objectionable side effects of such medications like Viagra is stuffy or runny nose. Contact local heartiness care producer if you have any dangerous side effect that bothers you. Do not keep out-of-date medicaments. Take them to your local apothecary which will dispose of them for you.
Share the love...

0


0

0

0

0