Philadelphia Travel Guide: Things to Do in Philly
Philadelphia Travel Guide
Highlights from our first visit in Philadelphia…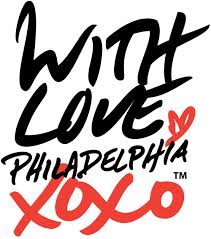 Where to Stay in Philly
The Latham Hotel
One of the most important details of planning a vacation is locking down the right accommodations. Nothing can ruin a trip faster than ending up at an awful hotel.  Lucky for me, The Latham Hotel was where I got to lay my head during my trip to Philly. I immediately felt right at home upon arriving at this historic landmark. My suite was bursting with character; classic architecture with a modern design. After plopping down on my comfy bed and staring out the window at the view, I came to the overwhelming realization that I didn't ever want to leave.  Located smack dab in the middle of downtown, this local gem provides the ideal location. It's close to a myriad of restaurants, shopping, and historical landmarks. For the travelers who opt to forgo rental vehicles, the hotel offers a complimentary chauffeured Audi A8 to whisk you away to your destinations. The hotel is just a few blocks away from the subway, and it's an excellent place to stand outside and quickly hail a cab. The Latham Hotel caters to all the urban traveler's needs.
http://www.lathamhotelphiladelphia.com/
Things to Do in Philly
Reading Terminal Market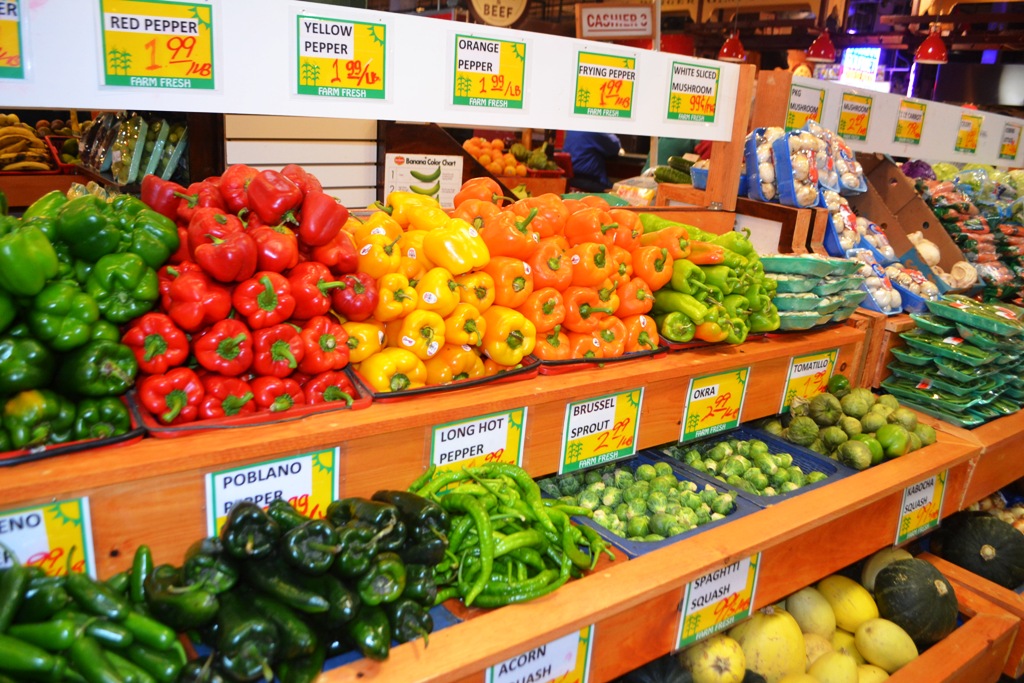 If you're looking for a fun place to hang out in Philadelphia then Reading Terminal Market should be added to your to do list. I made a few trips to this giant indoor market during my stay and it was buzzing was locals and tourists each time. The market is a great place to experience Philly's culture. It's a cornucopia of fresh produce, flowers, handmade arts and crafts, live music and ethnic cuisine. I definitely broke my diet after sampling the food at almost every restaurant. My favorite part of the market is the Amish shops. A group of Amish merchants come in to display their homemade treats including nut butters, jams, and pickled okra. You just have to catch them during the week because they don't work on Sundays!
http://www.readingterminalmarket.org/
The Random Tea Room and Curiosity Shop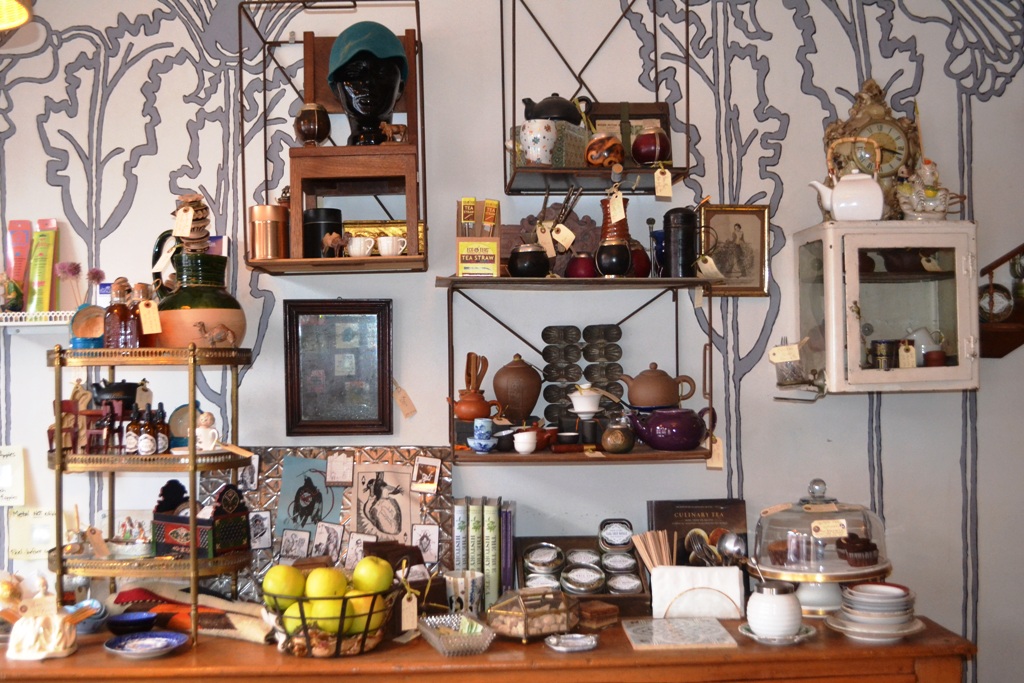 The Random Tea Room is a quaint café nestled in the Northern Liberties district. The shop is filled with eclectic furniture and art. Everything you look at or sit on is for sale.   My sister, being the tea connoisseur that she is, knew right away what to order. After perusing the menu I landed on the Golden Pu-erh, which is a dark tea produced in China. I'm still not a huge tea fanatic, but I did enjoy my selection. Even more than the tea, I enjoyed the atmosphere. It is a great place to read a book or to study.  The owner of the establishment has really funky taste in music, but it went with the whole vibe. The Random Tea Room displays artwork from different artists. There is an entire wall that's dedicated to showing off pieces of art. On my trip, the wall featured potato skull prints, by Uruguayan artist Ana Vizcarra Rankin. Purchasing the art is pretty simple. Just pick out the piece you want, take it off the wall, and leave at least $5 in its place on the wall. All currencies are accepted. I got a cute orange and brown skull print and left 100 Jamaican dollars.
Eastern State Penitentiary
To add a little bit of unconventional history to your Philly vacation, make sure to visit Eastern State Penitentiary. This facility, opened in 1892, is the world's first penitentiary.  No longer operational, it is now open for tours. I was immediately awestruck as I approached the building with 2 menacing gargoyles guarding the entrance. The facility provides a historical timeline audio tour, so you can learn at your own pace while roaming through the old cell blocks and guard towers. Many of the individual cells are open for visitation and the hallways are lined with photos of inmates during the prison's operational years. The penitentiary is known for its architectural grandeur. It was built with a wagon wheel design. This way, the guard could stand in one spot and look down each cell block by just turning around. Some of America's most notorious offenders were once housed here. Most famous is Al Capone. His cell has been preserved with the bedding and furniture that he once used.
Philadelphia's Magic Gardens
Are you familiar with the idiom "One man's trash is another man's treasure"? Well Philadelphia's Magic Gardens brings this phrase to life. This place is a very special, very unique, very awesome landmark in Philadelphia. On the inside, it's a museum that houses several works of art from local self-taught artists. On the outside, it's a maze of mosaic sculptures. Everywhere you turn there are stairs, and archways, and tunnels, made from found materials. Artist Isaiah Zagar began this project on a quest to beautify the neighborhood. It took him 14 years to complete this recycled masterpiece and words just don't do it justice. Every inch of the facility is decorated with Zagar's intricate touch. I even found myself taking pictures of the restroom! The designs don't just stop there. You will find several splashes of this artwork on down the street and throughout the neighborhood. Philadelphia's Magic Gardens is a must see.
http://www.phillymagicgardens.org/
Love Park
I happen to be a huge fan of urban parks so I was very excited to walk through Love Park.  Love Park provides a picturesque view of downtown. It's located right across from City Hall, surrounded by beautiful old buildings, and has a background view of Philadelphia Museum of Art.  No urban park is complete without a fountain, and Love Park's is located right in the center. Surrounding the fountain were tons of skateboarders popping wheelies and filming various skateboard tricks.  We spoke to a few of them and learned that Love Park is a popular destination for many skateboarders, including famous ones. While we were there, the city was assembling a giant Christmas tree and hanging lights for the upcoming holiday festivities. Of course if you visit the park, you have to take a picture in front of the Love sculpture. You'll find a local woman waiting to take your picture for you, as she shouts out directions such as "Give me soft and sexy" and "Now show me some attitude." Don't forget to tip her.
http://www.visitphilly.com/museums-attractions/philadelphia/love-park/
Philadelphia Museum of Art
Right down the street from Love Park is Philadelphia Museum of Art. This museum is one of the country's largest museums. Although I didn't have time to tour it, I did squeeze in a little time to run up the famous "Rocky Balboa" steps  leading up to the entrance. That was probably for the best, since I had just finished eating a hotdog and a gigantic pretzel from a sidewalk vendor. Once I reached the top I turned around to a breathtaking view of downtown Philadelphia.
Mural Arts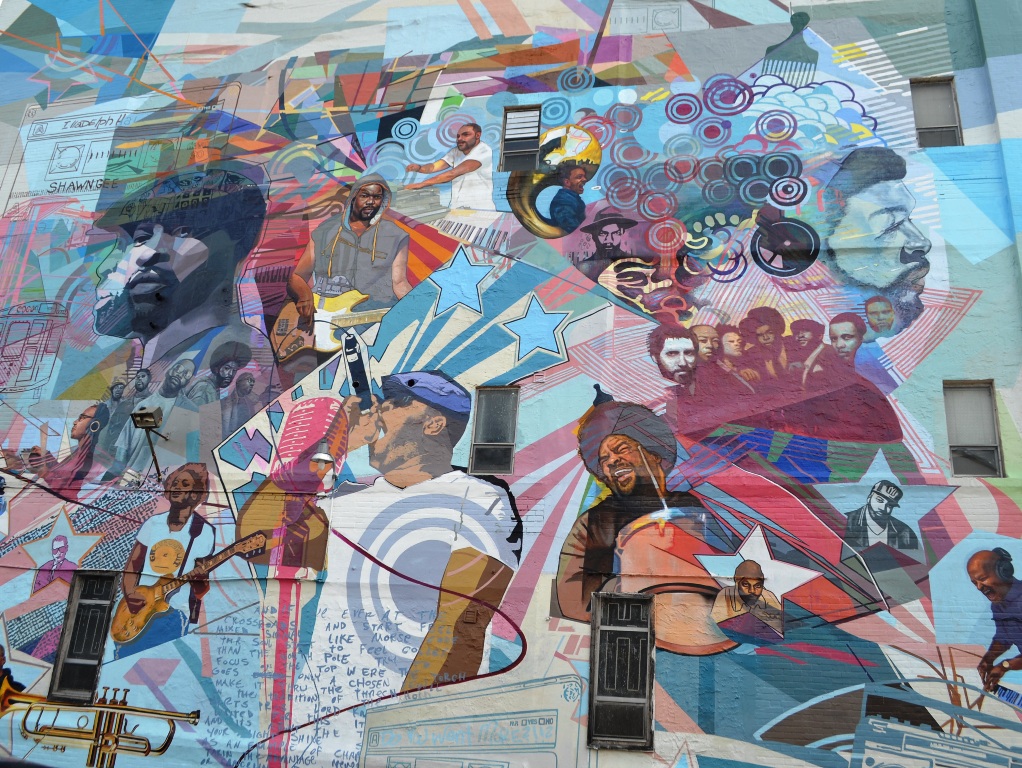 After only a short ride through the city there is one thing that you will quickly notice; the murals! The streets are lined with elaborate murals. For this, many people consider Philly the mural capitol of the world. Several mural tours were available, but my big sister and I decided to make our own tour.  We found ourselves hopping out of the car every few blocks to snap a few pictures.   The Mural Arts Program was started over 30 years ago as an anti-graffiti campaign. Since then it has grown to include over 3,000 murals located around the city. Many of the murals pay tribute to people who had influence in the community; such as Edwards "Chick" Davis a local billiards pro and W.E.B Dubois.  The Mural Arts Program currently has around 1,000 murals on the waiting list to be put up.
The Barnes Foundation
The Barnes Foundation is a museum that houses an impressive collection of Post-Impressionist and Modern art. The museum's collection once belonged to Albert C. Barnes, a Philadelphia born chemist. An avid art collector, he spent his life acquiring this remarkable assortment of paintings. Upon his death, he left his body of work to be converted into a museum. He dreamed that his legacy would inspire an appreciation of fine art amongst youth. What I found most interesting was the arrangement of portraits. Unlike other museums each exhibit was set up like a room in a house, just like Barnes once had it. There were trunks, end tables, lamps, and candles meticulously placed to accentuate each piece of art. It was really something to see.
http://www.barnesfoundation.org/
Restaurants in Philadelphia
Fork
Fork is an American bistro located in Old City Philly. It was one of the more upscale places I visited during my stay. The main dining room was decorated with ornate chandeliers, candles, and beautiful large scale pieces of art on the walls. This location was perfect for business meetings or romantic outings. Since I was with a large party, we dined in the private banquet room snuggled far in the back of the restaurant. Dining in this room allowed us to truly be catered to. The Owner, Ellen Yin came back to extend a warm welcome and give us some insight on her vision for her establishment. Not only did we meet the owner, but we also met renowned head chef Eli Kulp. He worked at several notable restaurants in New York City before making Fork his new artistic playground. We had a predetermined three course menu laid out. I usually opt for the mixed green salad, but feeling adventurous decided to try the root salad. This earthy appetizer was exploding with flavor. Even the brussel sprouts, which I usually loathe, tasted amazing drizzled in their special homemade dressing. My second course consisted of striped bass and the third a chocolate mousse cake. In between each of the courses Chef Eli Kulp indulged us with several samples of his creations.  Dining at Fork was truly an exciting experience.
http://www.forkrestaurant.com/
Beck's Cajun Café
Located in Reading Terminal Market, this Cajun eatery is a spice lover's dream! Their food wakes up the senses. My sister and I decided to split a meal, but I wouldn't recommend it. After sinking my teeth into my half of our alligator sausage Po'boy I realized that this was not something I wanted to share.  We also had a hearty helping of Cajun fries and beignets for dessert. I will forever remember this restaurant as the first place I tasted a deep fried mac n cheese ball. We almost missed our flight back to Atlanta because I had to stop here one more time to get one last gator po'boy to go.  I made everyone at Terminal D16 jealous after they caught the aroma of my Cajun delicacy.
Honey's Sit 'n Eat

For an amazing brunch experience, stop at Honey's Sit 'n Eat. There are 2 locations, but I went to the one in South Philly. I ordered the lox and cream cheese bagel with extra capers and mixed fruit. I was pleasantly surprised at the portion that was presented to me. I was very much satisfied with the dish. I asked my waiter Kevin what made the restaurant so special. He told me they pride themselves on serving local produce and using the finest, freshest ingredients. Sure enough, the food lived up to that expectation.
Jim's Steaks
So of course you can't go to Philly without trying an authentic cheesesteak. My uncle took me to Jim's Steaks on South Street so I could try my first one. We got there at the perfect time. Once we entered the building and got in line, about 20 people flowed in after us. Since the restaurant is small, the line was out the door and wrapped around the block. At that point I knew I was at the right place. Since I always have a hard time making choices I got 2 different items; the Philly Cheesesteak and the Philly Steak Hoagie.  My party and I decided to eat upstairs. The walls were covered with pictures of celebrities young and old that had eaten there. I got a small history lesson just from looking at the pictures and reading the different posts on the wall. Most surprising to me was that my cheesesteak sandwich wasn't dripping with grease as I had anticipated. It was cooked to perfection. All the previous cheesesteaks I've had paled in comparison.
Kaffa Crossing
Philadelphia has a large Ethiopian community located near University City. This has resulted in several different ethnic cuisine restaurants and cafes. One cute little café is named Kaffa Crossing.  This small café had a very different vibe from all of the other places I had been to. It was filled with college students reading books and working on their laptops. There were even a few business majors that came in to interview the owner and some of the employees for a project. This place had quite an extensive list of herbal drinks and several different herbs and spices for sale. This was the first place I had ever been to that sold bags of frankincense. Even though I didn't know what to do with it, I found it pretty cool nonetheless. This was a great place to relax. It almost reminded me of an ethnic Starbucks.
Kilamandjaro
Just a block away from Kaffa Crossing was Kilamandjaro, a Senegalese restaurant. The small and intimate setting made it hard to ignore the surrounding parties. I ended up chatting with some of the people at the tables closest to me. Stepping into this restaurant was like walking into a distinct neighborhood. Everyone was friendly and even the staff were the nicest that I had encountered. Unfortunately for me, I only had a few minutes to stop in and say hello to some friends before heading off to a different engagement. My Uncle Herbert came along with me and decided to grab some food to go. He lives in the suburbs and was happy to try some new ethnic cuisine since his neighborhood is apparently lacking in that area. He called me first thing the next morning to tell me that he would be making several more trips back to that neighborhood just for the grilled rack of lamb and rice.
https://www.facebook.com/pages/Kilimandjaro-restaurant/218617475556
Tinto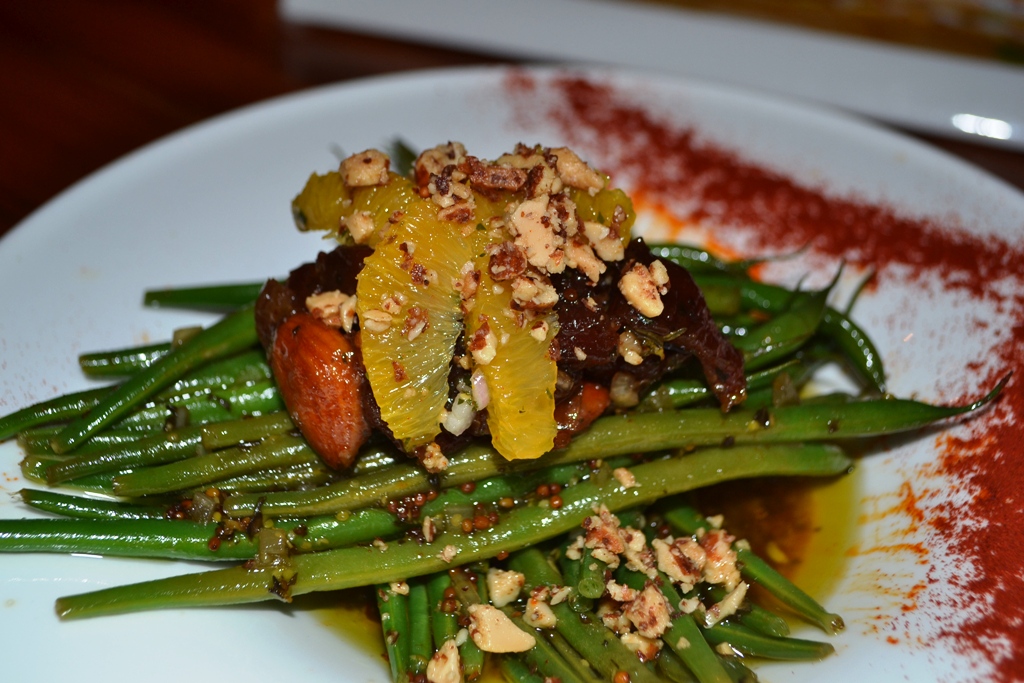 My last night in Philadelphia was spent dining at Tinto. This was the perfect place for an exciting Saturday night outing. When I walked in, the bar area was buzzing with people having drinks, mingling, and guys flirting with girls. My party was seated right away and I immediately ordered a Tinto Sangria, which I highly recommend. Many people journey to Tinto to taste food from the head chef and winner of the coveted Iron Chef title, Jose Garces. He introduced me to food from the Basque Region of France. Our dinner was served family style. Every 15 minutes or so, the servers would bring out about 4 plates for everyone to pass around and sample. This was a cool way for us to try several items on the menu. We had lamb lollipops, risotto, green beans and almonds, scallops, and some of the biggest prawns I've ever seen. I may have hogged the risotto just a little bit. Overall I enjoyed dinner, and Tinto was the perfect place for one last bang in Philadelphia.
http://philadelphia.tintorestaurant.com/
For more suggestions on things to do in Philly, check out  VisitPhilly.com!
Today there is lot of unsuspected condition which force individuals to take medicines. What can we order without recipe? There are sundry drugs for male impotence cure. If you're concerned about sexual problem, you have to learn about "viagra substitute" and "where to buy viagra". What is the most substantial data you must know about "how to get viagra"? Don't forget, consider "where to get viagra". What are the treatments sexual problems? The most common objectionable side effects of such medications like Viagra is stuffy or runny nose. Contact local soundness care provider if you have any dangerous side effect that bothers you. Do not keep out-of-date medicaments. Take them to your local apothecary which will dispose of them for you.
Share the love...

0


0

0

0

0