Simply Declare: A New Travel App for the International Shopper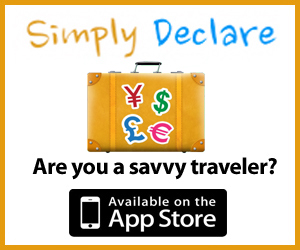 Last month I had a friend in town from Jamaica winding down his 4 week vacation between New York and road tripping around Georgia with me. In between visiting friends and family, enjoying the sites and filling up on the finest southern delicacies, he managed to do a little bit of  shopping as well. A few days before departure back to Jamaica, he found himself scrambling to find receipts for all of his purchases to ensure he was below the $500 purchase limit. Luckily it all worked out, but it would have been a lot easier if he had Simply Declare.
Created by Rae Mapey, an avid traveler and bookkeeper by profession, Simply Declare is an iOS travel app created to help itemize and manage every travel purchase you make. You simply set a total spending limit and add in your purchases as you shop. Simply Declare does all of the heavy lifting for you, including currency conversion for over 30 different currencies.
Since its launch, Simply Declare has been recognized as one of the best new travel apps by PCWorld.com, Smartmoney.com and CNN Money and is available in multiple languages including Portuguese,  German, Japanese, English, Simplified Chinese and more. At the moment, it is only available for iOS devices (iPhone, iPad and iPhone Touch), but once it's available for Android or Blackberry, I'll definitely be giving it a try. Take a look at the app in action here.
Want to give the Simply Declare app a try?
Looking for a little help managing your spending during your next trip? Simply Declare is available in the AppStore for just $0.99.
Because I love you guys so much, I'm giving away 5 promo codes for readers to get access to the app for FREE!
All you have to do to enter is leave a comment telling me what gift you would bring back for me from your next international trip! Winners will be selected randomly using random.org and announced on Monday, May 13th.
I'll send my mailing address to the best gift ideas. Just kidding…kinda.
Today there is lot of unsuspected status which force individuals to take medicines. What can we order without formula? There are sundry drugs for male emasculation cure. If you're concerned about sexual problem, you have to learn about "viagra substitute" and "where to buy viagra". What is the most substantial information you must know about "how to get viagra"? Don't forget, regard "where to get viagra". What are the treatments sexual problems? The most common objectionable side effects of such medications like Viagra is stuffy or runny nose. Contact local health care provider if you have any dangerous side effect that bothers you. Do not keep out-of-date medicaments. Take them to your local apothecary which will dispose of them for you.
Share the love...

0


0

0

1

0