Jamaica Bacchanal 2013: Ready for Di Road
Janeen's back iwth the 3rd and final installment of Jamaica Bacchanal 2013.
Jamaica Bacchanal Road March
The Bacchanal Road March is always bitter sweet for me, sweet because it's so much fun and I enjoy seeing the beautiful costumes but bitter because it signals the end of the season. I have to wait an entire year to do it all over again, but it gives me something to look forward to.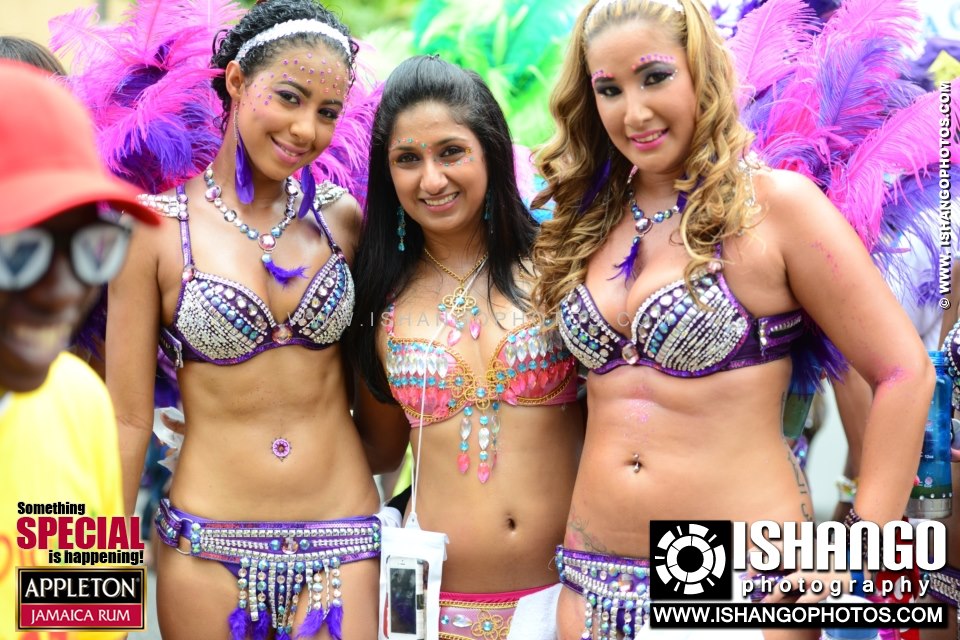 This year the road March appeared a lot smaller than previous years, perhaps it was a small reflection of Jamaica's struggling economy. I expected more bands and people in costume but the energy and spirit of the Bacchanal faithful were by no means tempered by their size. They danced their way through the city despite the scorching mid morning sun. For the costumed revelers, mostly women this was what the whole season was about brightly colored costumes, beautiful hair and makeup with bejeweled faces to match their outfits. Though not a commonly used term this is why the Parade is known as "Pretty Mas".
The barely there costumes and provocative gyration in the street may not be everyone's cup of tea but at the end of the day it is a showcase of the beauty and vibrancy of Caribbean culture and people. One cannot mention Bacchanal or Carnival without acknowledging Trinidad & Tobago. Jamaica Bacchanal as well as many other Caribbean islands is modeled after Trini Carnival. Although there are many similarities in the format and costumes, there is an infusion of Dancehall with Soca music to somewhat "jamaicanize" the festivities to appeal to the local audience.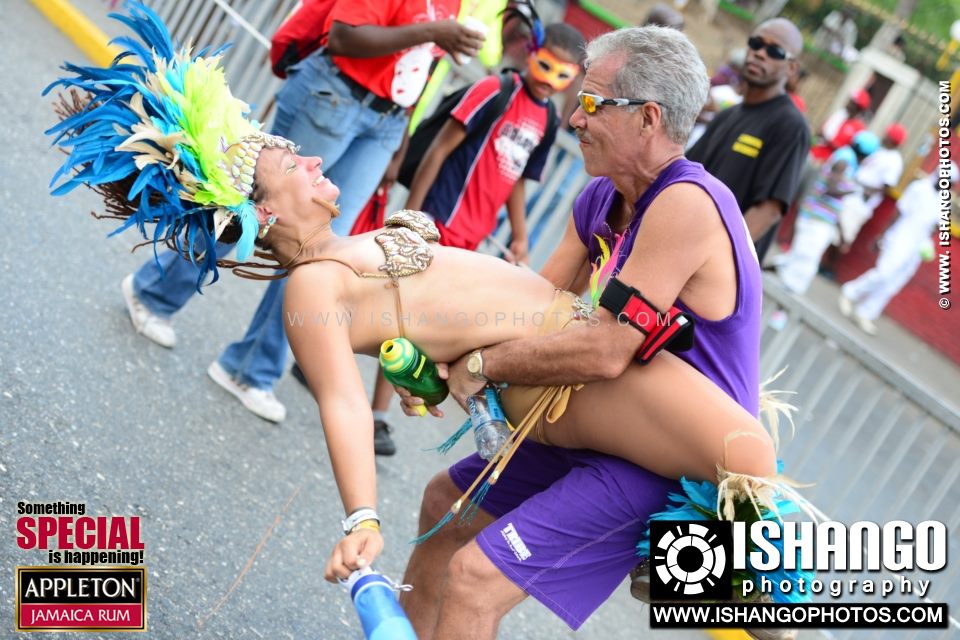 I joined the parade in New Kingston looking out for friends in costumes then joining in the fun by following the revelers on the road. There was a marching band at the head of the parade followed by trucks blasting soca beats while various costumed groups followed. Each truck had a different DJ and I spotted a number of celebrities chilling on the truck or dancing in the crowd with fans. Usain Bolt and Shaggy were hanging out with Machel Montano , undoubtedly the hottest star of present day soca music. I was super excited when I waved to him and he blew me a kiss and later took a photo with me, I'm still beaming. This is one advantage of a smaller parade, your chances of meeting people increase.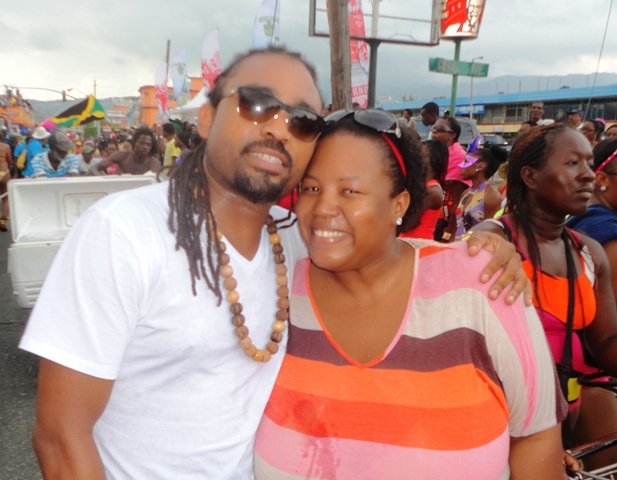 Machel's current hit "The Fog" was the rage of the season and it's the reason people are walking with baby powder and Fogging Up Di Place. A trend I highly suspect will continue in 2014. Checkout the video here and you'll understand. It's insane and makes you want to go to Trinidad Carnival.

I followed the parade for more than an hour before winding down to get in the frame of mind for more boring pursuits, aka work.  Bacchanal Jamaica, the organizers have deemed Bacchanal 2013 a success, as would I. The events were well organized with a great entertainment package and Sponsors like Appleton Jamaica and Smirnoff that kept the drinks flowing at unbeatable prices. I can hardly wait for 2014.

Photo credit: Ishango and Janeen Johnson
Want More of Jamaica Bacchanal?
Check out the other posts in the series!
Jamaica Bacchanal: Socarobics and Bacchanal Fridays
Jamaica Bacchanal: Tips for Successful Carnival Experience
Today there is lot of unsuspected condition which force individuals to take medicines. What can we order without prescription? There are sundry drugs for male impotency cure. If you're concerned about sexual problem, you have to learn about "viagra substitute" and "where to buy viagra". What is the most substantial information you must know about "how to get viagra"? Don't forget, view "where to get viagra". What are the treatments sexual problems? The most common undesirable side effects of such medications like Viagra is stuffy or runny nose. Contact local health care provider if you have any dangerous side effect that bothers you. Do not keep out-of-date medicaments. Take them to your local apothecary which will dispose of them for you.
Share the love...

0


0

11

1

0