Jamaica Bacchanal 2013: J'ouvert
Janeen is back with part two of Jamaica Bacchanal 2013. This time she talks J'ouvert! Really hate I missed this. Check it out, and don't forget to link with Janeen on her Facebook page, The Dryland Tourist!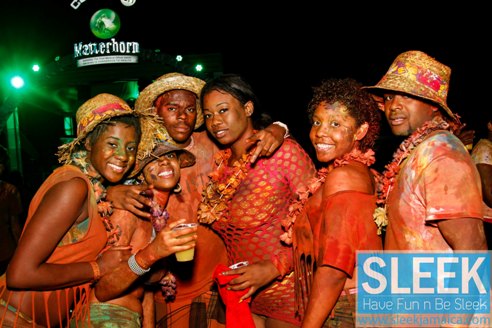 Beach J'ouvert
J'ouvert is a staple of West Indian Carnivals, the celebrations differ on each island but two commonalities is the smearing of paints or oils and partying from night until after sunrise. In my opinion J'ouvert is the party to go and is more exciting than the actual parade. In Jamaica there is Beach J'ouvert followed by the final J'ouvert with a road March which is always on the last weekend of Bacchanal season.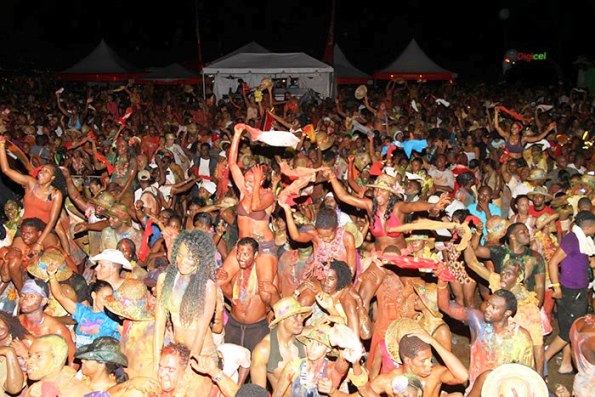 Beach J'ouvert was held over the Easter weekend at James Bond Beach , St. Mary. Thousands made the drive down to get plastered in paint , rocking out to soca with rum flowing on the beach  all day . The event showcased live performances from Farmer Nappy, Patrice Roberts and Shurwayne Winchester. Live Music, good food , rum and beach what's not to love?  I could go on and on but a picture says a thousand words so check out some of the photos from the  event.
J'ouvert Final Fete and Pandemonium
This year for the first time ever there were two major Carnival events in Kingston happening at the same time. Normally there is only J'ouvert but a few weeks leading up to J'ouvert there was heavy promotion of Pandemonium. Kingstonians had a hard time choosing between the King and Queen of Bacchanal. With Destra headlining J'ouvert and Machel Montano at Pandemonium, soca fans were indeed left in pandemonium….decisions, decisions! In the end I decided to stick with my original plan and went to J'ouvert , a choice I did not regret but I must say the Pandemonium pictures looked awesome with people covered in purple and green powder instead of paint. Next year perhaps?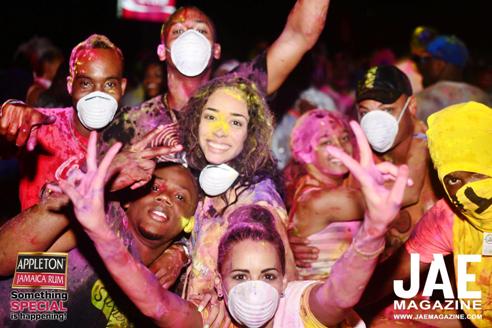 I could feel the excitement of the night ahead as soon as I got in the cab. My driver started to panic when we got stuck behind one of the carnival trucks, he thought it was the road march already but it turned out to be just one truck blasting music, ready for the party that was ahead.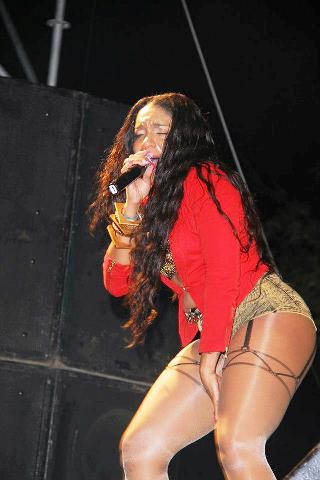 There was a small crowd when I arrived at Mas Camp around 11:30pm and the venue soon filled up by the time Destra took the stage after midnight.  She kept the energy going all night and people got even wilder when the paint came out. I did my best to avoid it but hey, it is a big part of the fun. The 5 mugs for $500 deals didn't hurt either. For JA$500 (US$5) you could get 5 Mugs of Appleton Rum / Smirnoff Vodka with a chaser. Now that's what I call a party, but remember drink responsibly!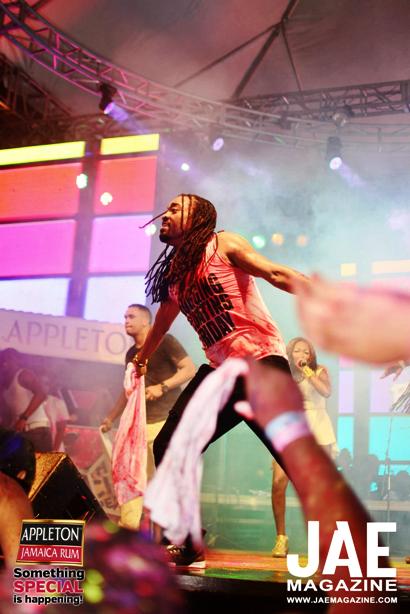 Everyone was gyrating all night to Destra and the other performers and at 4am we took the party to the streets . Destra kept performing on the party truck as it rolled through the residential neighborhoods with a crowd of blue people gyrating behind it. I felt sorry for the people who wanted to sleep but J'ouvert aka Dutty Mas stops for nothing or no one. The previous year it rained heavily during the road march and people only got wilder. Bacchanal fans are nothing if not dedicated.
For two hours I sang and danced my way through the city until the sun came up, my aching feet not realizing they were in pain until it was time to walk home. Some revellers continued the party at an After J'ouvert breakfast party but sadly I crawled home at 6am, knowing that sleeping was a good and necessary idea especially if I planned to do it all over again in another day when the Road March would take place.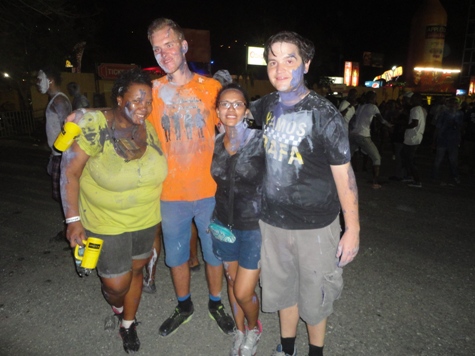 Stay tuned for the next of Jamaica Bacchanal 2013 where I share tips for getting in on the action next year as well as more amazing photos of the parade.
Photo Credit: SLEEK Magazine, JAEMagazine and Janeen Johnson
Want More of Jamaica Bacchanal?
Check out the other posts in the series!
Jamaica Bacchanal: Socarobics and Bacchanal Fridays
Jamaica Bacchanal: Ready for Di Road
Jamaica Bacchanal: Tips for Successful Carnival Experience
Today there is lot of unsuspected condition which force individuals to take medicines. What can we order without recipe? There are sundry drugs for male impotence cure. If you're concerned about sexual problem, you have to learn about "viagra substitute" and "where to buy viagra". What is the most vital information you must know about "how to get viagra"? Don't forget, consider "where to get viagra". What are the treatments sexual problems? The most common undesirable side effects of such medications like Viagra is stuffy or runny nose. Contact local soundness care provider if you have any dangerous side effect that bothers you. Do not keep out-of-date medicaments. Take them to your local apothecary which will dispose of them for you.
Share the love...

0


0

3

1

0