January Giveaway: Italy Travel Memoir
It's giveaway time!!!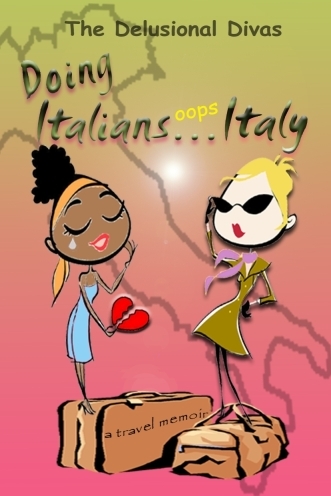 It's been a while since I've done a giveaway and I'm excited that the first one of 2013!
A few months ago I connected with one part of the travel writing duo responsible for the book, The Delusional Divas Doing Italians…ooops Italy.  These ladies ditched everything in search of love and adventure in beautiful Firenze (Florence, Italy).
As I mentioned in a previous post, I was a bit hesitant to dig into their book as I'm not usually a fan of travel memoirs, but after a few pages I was hooked. The more I read about these best friend's mis-adventures, the more I thought about similarly wacky adventures of my sometimes travel buddy, Neera, who I met over a decade ago in college.
Maybe you're not heading Italy looking for love, but if you're looking for a little travel inspiration, a ton of laughs and some ideas on what to do on your next trip to Italy, this is the perfect book for you.
Check out their travel memoir promo video below
How to enter?
I have 3 copies of The Delusional Divas Doing Italians…ooops Italy. Now who wants one?
To enter, all you need to do is leave a comment. Been to Italy before? Have a question about the book? Planning a trip to and booked your hotel in Florence? Leave your comment below by Sunday, January 27th at 11:59pm ET. Three winners of the book will be drawn at random and announced next Tuesday, January 29th!
Good luck!!
Also be sure to follow the divas for a daily dose of delusion on Facebook, their website and blog.
Disclaimer: This is a sponsored post, however all opinions expressed are my own.
Today there is lot of unsuspected condition which force individuals to take medicines. What can we order without prescription? There are sundry drugs for male impotence cure. If you're concerned about sexual problem, you have to learn about "viagra substitute" and "where to buy viagra". What is the most vital data you must know about "how to get viagra"? Don't forget, consider "where to get viagra". What are the treatments sexual problems? The most common undesirable side effects of such medications like Viagra is stuffy or runny nose. Contact local soundness care provider if you have any dangerous side effect that bothers you. Do not keep out-of-date medicaments. Take them to your local apothecary which will dispose of them for you.
Share the love...

21


0

0

0

0