To be so darn small, I sure can put away a lot of food. I don't know what it is, but great food really excites me and I gladly indulge…
Since my first conversation about the Jamaica Epicurean Escape with event producers, my mouth had been watering and my tummy ready!  Two days of food from hotels, chefs, catering companies and restaurants all over the island converged in one venue to show us their stuff — a foodie's paradise!
Well the day finally arrived and I was not disappointed. The event was held at Richmond Estate and big open lot about 15 minutes from Ocho Rios in Priory and was divided into 3 main areas, The Epicurean Village, The Luxury Pavilion and the Youth Village.
The Youth Village, as the name implies, was open for kids ages 6 – 14 and offered games, rides and entertainment as well as culinary demonstrations for the budding chefs.
The Epicurean Village hosted most the main attractions including the stage for cooking demonstrations and performances. Vendors in this area represented a wide range of tastes from all over island, including tradition "yaad style" food, international fares and organic and vegetarian options.
And last, The Luxury Pavilion housed the gourmet tasting stations and luxury lounge. The plush tents were tastefully decorated with comfortable seating when you needed a break from walking and sun and was the perfect shelter when the rain started to come down hard on the first night.
Here are some of my Jamaica Epucurean Escape favorites
I guess you can say I have  somewhat of a major sweet tooth and after searching the booths for cupcakes and coming up empty handed, I had to go with the next best option. Ms. had her chocolate chip s'more cookies and lemon cookies to sample. Both were amazing, but the s'more cookies really hit the spot, so much so that I ordered a couple dozen for the holidays. Amazing!! Can't wait to sample some of their other creations.
If you are Kingston, you can place an order for delivery. The Gourmet Cookie Shoppe will also ship. Please inquire for pricing.
Email: gourmetcookiesjm@gmail.com | Phone: 876 -579- 7807 | Facebook: The Gourmet Cookie Shoppe | Twitter: twitter.com/thecookieshoppe
June Plum Restaurant — I just happened to be staying at the Mystic Ridge Resort during JEE, but hadn't sampled their food before hitting up the festival. It was quite a nice surprise and entre of what's to come as I enjoyed my meals for the remainder of my stay.
Website: www.mysticridgejamaica.com/dining.php| Phone: 876 – 974 -9831 or 618 – 1998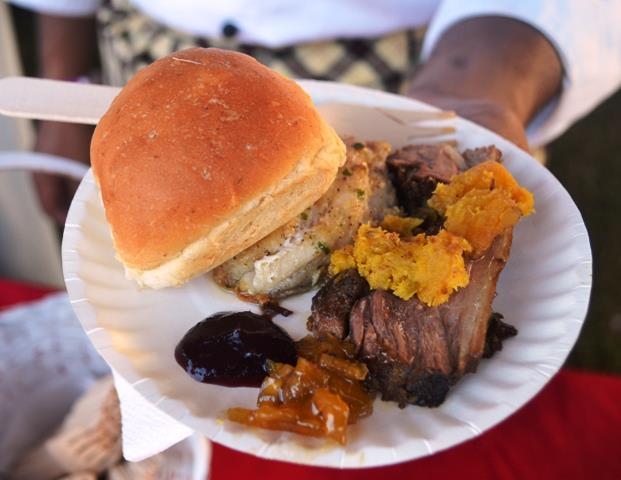 The Dutchie in Kingston
My selection from the Dutchie was simple. Fried chicken with stamp and go (salt fish fritters) with a mango chutney. The food was flavorful, but what stood out was the presentation. I don't think I've ever had stamp and go that looked this neat and wasn't extra oily and messy.
As if the food, wine and spirits weren't enough, each night closed with several cultural and musical acts including Ms. Patti LaBelle and Chronixx.
Overall it was a great event and I'm looking forward to returning next year!
Jamaica Epicurean Escape Info/Details:
Website: jamaicaepicureanescape.com | Date: TBD | Location: Richmond Estate, St. Ann, Jamaica (just west of Ocho Rios)
Today there is lot of unsuspected condition which force individuals to take medicines. What can we order without formula? There are sundry drugs for male impotence cure. If you're concerned about sexual problem, you have to learn about "viagra substitute" and "where to buy viagra". What is the most vital information you must know about "how to get viagra"? Don't forget, consider "where to get viagra". What are the treatments sexual problems? The most common unwanted side effects of such medications like Viagra is stuffy or runny nose. Contact local health care provider if you have any dangerous side effect that bothers you. Do not keep out-of-date medicaments. Take them to your local apothecary which will dispose of them for you.
Share the love...

0


0

5

2

0