I Want to Go With Oh to Florence
OK so I know I just posted about Going with Oh to Barcelona and that's still true; I REALLY need a Barca do over. But because the prize is a full month in Europe and there are 10 fabulous cities to choose from, I had to enter another…
So let me tell you why I also want to 'Go with Oh' to Florence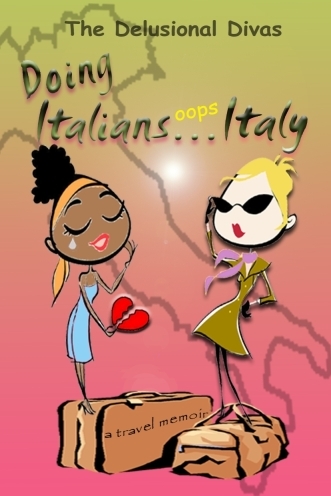 A few months ago I connected with one part of the travel writing duo responsible for the book, The Delusional Divas Doing Italians…ooops Italy.  These ladies ditched everything in search of love and adventure in beautiful Firenze.
I hesitated to dig into their book as I'm not usually a fan of travel memoirs, but after a few pages I was hooked. The more I read about these best friend's mis-adventures, the more I thought about similarly wacky adventures of my proposed travel buddy, Neera. No, we won't be heading to Italy looking to rekindle long lost love, but a bit of people watching over a nice chianti never hurt anybody, right?
The Delusional Divas, Shelby and Dena, conveniently organized their book to include contact information and addresses to the sites mentioned during their multiple trips to Florence making it easy for Neera and I to relive (or avoid) their delusional highlights.
 But that's not all…
Of course I'd still have my cupcake fix, maybe at Mama's Bakery, scope out the reggae scene, which is apparently big in Italy and reconnect with Paolo.
Neera and I first met Paolo in Rio de Janiero in 2011. We ushered in the new year on the beaches of Copacabana with our new Italian friend via Couchsurfing. Several months later I was invited to speak at the Conference on Social Media and Tourism in Verona. Paolo didn't hesitate in making arrangements to meet me there.  He promptly scooped me up from the airport and took me out for my first Italian meal, PIZZA!! That week, we had a blast touring Soave, one of the wine regions in that area and meeting up for dinner, drinks and conversation with the Soave Couchsurfing crew. It's been over a year and Neera and I could definitely use a Paolo fix. It's guaranteed to be full of laughs, great food and an over all amazing time!
Fingers crossed Neera and I get to Go with Oh to Florence and 3 more European cities this spring!
Want a chance to Go with Oh? You have several more days to enter and win big via your blog, Facebook, Twitter or Pinterest. Click here for more details!
Today there is lot of unsuspected state which force individuals to take medicines. What can we order without recipe? There are sundry drugs for male impotence cure. If you're concerned about sexual problem, you have to learn about "viagra substitute" and "where to buy viagra". What is the most substantial information you must know about "how to get viagra"? Don't forget, consider "where to get viagra". What are the treatments sexual problems? The most common undesirable side effects of such medications like Viagra is stuffy or runny nose. Contact local health care provider if you have any dangerous side effect that bothers you. Do not keep out-of-date medicaments. Take them to your local apothecary which will dispose of them for you.
Share the love...

0


0

0

0

0