International WiFi with XCom Global

As a somewhat tech obsessed traveler, one of my biggest concerns when taking short trips abroad is the ability to stay connected.  And not just for e-mail and social media updates either. I manage most of my life via my smart phone, especially when I travel. So things like confirmation numbers, addresses, directions, maps are right at my finger tips, IF I have connectivity. Sure I have my phone, but $25 per 100MB of data offered by most US providers is just ridiculous. I've had one over $600 cell phone bill and that will not happen again!
Thankfully there's international WiFi service available at reasonable rates via MiFi devices (compact and portable wireless routers). On my recent trip to London for World Travel Market and other fun, I had the chance to give XCom Global's MiFi device and international WiFi service a whirl.
XCom Global offers coverage in 175 countries around the world. To procure, just notate your itinerary and any add ons (like a Nexus tablet) and make your payment. Your device will arrive in a little zippered pouch a day or 2 before your departure from either their LA or NYC office. It will come with a pre-paid return shipping envelope for your return.
Pros of Xcom Global's International WiFi Service
Flat fee for unlimited service — There are lots of international WiFi device providers popping up. I actually met a handful while at World Travel Market and surprisingly many have gone with a pay per usage model for pricing. Xcom Global, however, provides unlimited broadband service for a flat fee daily. For someone who has a lot of emails coming through or using social media a lot to stay in touch, a flat rate is the best way to go.
Connect up to 5 Devices — While not unique to XCom global, it came in quite handy to be able to connect up to 5 devices. When at dinner or on the show room floor with the rest of the crew from the Go with Oh flat, we could all stay connected and post photos and updates from this one device.
Password protected — I saw in a previous review that the wireless device wasn't password protected, which meant total strangers could connect and "steal" your service. Well, my device came password protected so while roaming around London I wasn't "sharing" with anyone I didn't give the password to.
Two Batteries — I didn't do a good job of timing battery life because I was turning it on and off when not in use, but I was happy to have the extra battery when the first one was drained. Just remember to charge up both before you head out.
Universal Charger — Silly me forgot my converter for London, but thankfully my WiFi device came with a universal charger kit for various destinations. I was able to charge the batteries while in the US before my trip and once I arrived in London with no problem.
Cons of Xcom's International WiFi Service
Too many colors/lights — There are two indicators on the device. One to notify you if there is a wireless signal and another for power, battery and to notify you of what type of signal you have. This light constantly flashes and was really confusing the first day. I couldn't distinguish if the battery was dying or what was going on. The lights are all explained in the accompanying manual, so I was able o eventually figure it out, just wish it would have been simplified.
Signal in Congested Area — For the most part, the service was great, but there were instances when we had little to no connection. This primarily occurred at the Excel Center during World Travel Market, likely from interference from all of the other things going on on the show room floor.
Overall, I enjoyed having my international Wifi Service from XCom Global and look forward to giving them a try again in the near future. On your next trip, consider saving your pockets with international Wifi from XCom Global. Click on the image below for more information.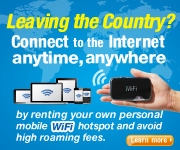 Disclaimer: I was offered a free trial of the device by XCom global, however, all opinions are my own.
Today there is lot of unsuspected state which force individuals to take medicines. What can we order without recipe? There are sundry drugs for male impotency cure. If you're concerned about sexual problem, you have to learn about "viagra substitute" and "where to buy viagra". What is the most essential info you must know about "how to get viagra"? Don't forget, regard "where to get viagra". What are the treatments sexual problems? The most common undesirable side effects of such medications like Viagra is stuffy or runny nose. Contact local heartiness care purveyor if you have any dangerous side effect that bothers you. Do not keep out-of-date medicaments. Take them to your local apothecary which will dispose of them for you.
Share the love...

0


0

0

0

0