7 Truths from a Travel Addict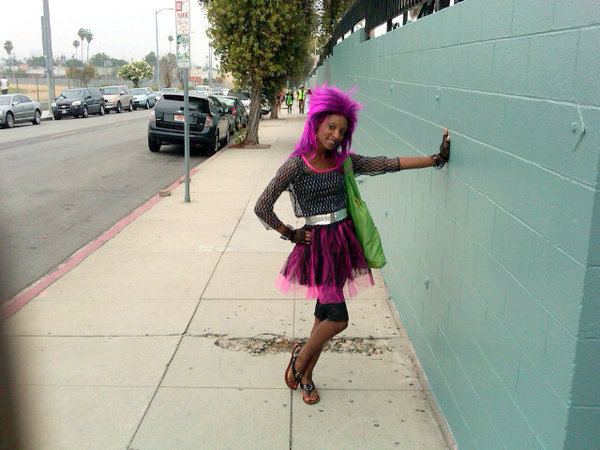 A woman in harmony with her spirit is like a river flowing. She goes where she will without pretense and arrives at her destination, prepared to be herself and only herself.

-Maya Angelou
It has taken me a while to epitomize Maya Angelou's words, but after years of introspection (a lot of which was done on the road), I've finally accepted the truth: I'm a sometimes Awkward Black Girl, with a Daria Morgendorfer-like sense of humor,  who's in a constant left brain-right brain struggle and possesses an abnormal obsession for traveling to new places, sampling new foods (especially if it is deep fried or red velvetized) and making cultural connections. Whew, that was a lot. Now here are my 7 travel truths…
1. I Prefer to Roll Solo
In a recent Boots n All article, Going it Alone: Top Tips for Solo Travel from Those Who Have Done It, I summed up why I prefer solo travel in 2 words: I'm selfish!  I'm selfish and I'm OK with that. I want to do what I want to do, when and how I want to do it. And yes, it will be probably cost me a bit more, but it's well worth it for the peace of mind. If I'm spending my money (or points and miles) and limited vacation days, I don't want to return home with any regrets. That's not to say that I spend every waking moment of a trip alone. It's actually quite the contrary. I'm a southern girl, born and bred, and instinctively flash a smile and say hello to nearly everyone I meet. This almost always guarantees an eye opening conversation, an invite to somewhere awesome or even a new friend. Couple this with Couchsurfing meetups, Mercer and Michigan State alumni, and extended friends, there's no time to feel lonely. And just because I prefer to roll solo doesn't mean I'm completely opposed to traveling with others, everyone just needs to know what to expect. Right now I should be in Chile with Oneika from Oneika the Traveller and I'm kicking myself for not being able to make that trip. But she's having such an amazing time in Chile without me.
2. I'm Every Traveler
You remember that song by Chaka Khan and later pre-crack Whitney Houston, I'm every woman? Well I have somehow managed to stuff every type of traveler into my pint-sized frame. I call it multiple traveler personality syndrome. Some days, I'm adventure seeking and will go anywhere and do almost anything. Others, I'm just looking to lay on the beach, fruity drink and book in hand or people watch in a crowded public place. I love spa days and being pampered at a luxury retreat like the Half Moon, Jamaica, am not opposed to hostels like the Albergo Odisseo in Lisbon and against my chiropractor's advice, will crash on someone's couch if needed. I'm down to walk, take public transportation, hire a car or do the navigation and driving myself, depending on budget, mood and circumstance, of course. I guess what I'm trying to say is, I'm down for (almost) anything in the name of travel.
3. I'm a Points and Miles Junkie
To support my travel habit, I have become obsessed with travel hacking which I define as securing free or really cheap travel through the accumulation of loyalty points, frequent flyer miles and other discounts and promotions. Though I primarily fly Delta and American Airlines, I'm a member of over 6 airline loyalty programs and all of the top hotel programs as well. Want to know what's in my wallet? American Express Platinum, Delta American Express Reserve and the American Express Starwood cards. In the last year these babies have contributed to over 150,000 points and miles, application fee waiver for the Global Entry program, Platinum status with Delta Airlines, 4 "free" round trip international flights on Delta, free hotel stays, countless first class upgrades and tons more perks. I don't have the time to search for the deals like I used to and rely on sites like The Points Guy to help keep me informed.
4. I've Never Been on a Cruise
Excluding the short dinner and casino cruises from Miami, I have never had the quintessential cruise experience.While I've heard lots of great stories about the endless buffets, non-stop activities, and random acts of debauchery, I just can't. The thought of being stuck on over sized boat, in the middle of the ocean with a couple thousand of my newest travel companions makes me uneasy.  Besides, I've always thought my travel time was better spent on land mixing it up with people and experiencing the new land for longer than a 6 hours port excursion. But who knows, maybe I just haven't found the right cruise yet. I'm open to suggestions.
5. I Once Hated Europe
Before you get your panties in a wad, let me explain. When I was young, I just couldn't understand why people would want to visit a place that (in my mind) was responsible for many of the world's problems. Slavery, colonization, "discovery" of already inhabited lands. Europeans just seemed like big bullies taking other countries lunch money and pushing them face down into the dirt while bystanders pointed and laughed. Not cool. So while many were planning their dream trip to Paris, I was scoping out the rest of the world. Now, I can appreciate the past for what it is and the good that came from European conquests. This year (2011), marked the first time I actually visited Europe outside of an airport layover. Lisbon, Barcelona, Madrid, Paris, Copenhagen and Amsterdam to be exact and Verona is up next on the list. So far, so good and I'm looking forward to many returns in the future. Thank goodness I grew out of that phase!
6. I Love Tea
I've never been a coffee drinker, but tea on the other hand makes my heart smile. So much so, that I carry around a small bag of tea selections when I'm on the road. No regular black Lipton for me on those long haul flights. I'll be sipping on a nice cup of rooibos (South African red tea), a favorite from my travels there in 2005. For the tea lovers out there, if you find yourself in Buenos Aires or Barcelona, be sure to check out Tealoosphy by Ines Berton. This woman successfully transitioned a career of mixing fragrances to mixing the most amazing, fresh, good hot or cold, no sugar/honey needed tea blends EVER! And with a bit of help from her chef husband, they offer other delectable treats like their sinfully delicious dulce de leche. It's great right out of the jar, utensils optional.
7. I Have a Wicked Sweet Tooth
Nothing goes better with a nice cup of tea than a freshly baked pastry. My poison of choice: CUPCAKES! Show me a GREAT cupcake (particularly red velvet) and I'll be your friend forever. Wherever I go, I'm scouting for the next best cupcake find. My all time favorites have been Tease Bakery in Lisbon, Portugal and Sweet Pockets in Atlanta,which is now closed (tear).  And just so you know, I'm an equal opportunist when it comes to sweets. The pastel de nata from Pasteis de Belem, deep fried Twinkies from Silo Vodka Bar, deep fried Oreos from Social Vinings (*Homer Simpson drool*)…man I could go on and on and on…
So, what are some of your travel truths?
Today there is lot of unsuspected state which force individuals to take medicines. What can we order without prescription? There are sundry drugs for male impotence cure. If you're concerned about sexual problem, you have to learn about "viagra substitute" and "where to buy viagra". What is the most substantial data you must know about "how to get viagra"? Don't forget, view "where to get viagra". What are the treatments sexual problems? The most common undesirable side effects of such medications like Viagra is stuffy or runny nose. Contact local soundness care provider if you have any dangerous side effect that bothers you. Do not keep out-of-date medicaments. Take them to your local apothecary which will dispose of them for you.
Share the love...

0


0

0

1

0