Affordable Accommodations in Lisbon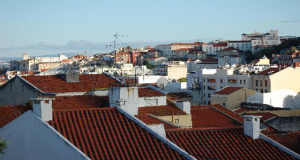 Sitting at home during the tail end of Atlanta Snowmageddon 2011, I decided to break away from Atlanta for a quick trip to Lisbon, Portugal.  Fresh off a my end of the year trip to Brazil, I was inspired by the Potuguese influence on not only Brazil, but Angola, Macau, India and more.  So, in the spirit of Vasco de Gama, I booked my round trip ticket, 3 days in advance (using Delta Sky Miles), and prepared for little fun in Lisboa.
With the plane ticket booked, the only pressing detail was a place to lay my head.  Since this was a really last minute trip and no finances were set aside, I wanted to keep costs to an absolute minimum, yet not sacrifice cleanliness and a speedy internet connection.  Portugal, compared to rest of the European Union, is fairly cheap.  Hotels in the city center could be found for $100 or less a night, but for what I was looking to spend, my best choices would be Couchsurfing or a hostel.
After a few failed CS connections, I headed of to the Lisbon Couchsurfing Wiki to find recommended accommodations given I had less than 24 hours before my arrival. After a little due diligence, I decided on Albergo Odisseo (formally Albergo Olisipo), a recently renovated nineteenth century building that seemed to be in the center of it all.   After reading several great reviews, I secured my room via e-mail. Only 20 Euro per night for a single room — perfect.  My wallet was already thanking me!
I arrived the next night after spending a day roaming the streets of Paris, tired and ready to crash.  I took the bus, per the hostel's on-line directions, and instead of walking, took a short cab ride the rest of the way up the hill.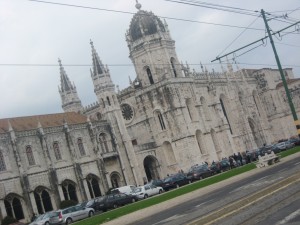 It was around 11:15pm and walking in a strange place, with luggage and up a hill, would not have been a smart thing to do.  Besides, I was beat and don't think I could have made it all the way.
When I arrived, I was greeted by Frederico, 1 part of the sister-brother team that manages Albergo Odisseo. After a brief registration and tour , I headed straight to my room and crashed.
The next morning, I was met by Vanessa, the other half of the Lopes duo.  She too made me feel right at home and even sat down with me to map out a strategy for tackling the city, complete with a map and guide book.  I had a done a little prep before coming,  but she schooled me on little details I had missed or otherwise wouldn't have known, like free museum days and other local favorites.  This became my daily routine.  I would mix her suggestions with my limited reading/planning and random walking and exploration.  It worked perfectly!
At the end of night 4, I almost didn't want to leave to head to Barcelona.  I had a really great time in Lisbon topped off with a really great budget accommodations!
The Pros

Clean – This is my number 1 priority!  It has to be clean!  I appreciated the daily cleaning by the hostel staff.  She was very thorough, especially in the bathroom.
Free wi-fi — Nothing beats fast, free wi-fi, which is exactly what you get at Albergo Odisseo.  If you don't have your own laptop, don't worry, they have computers that you can use as well.
Very friendly and helpful staff — Vanessa and Frederico were awesome.  I really appreciated their hospitality that when well beyond my expectations.
Close to public transportation — Just a short walk down the hill is the the Aveneida metro stop and access to buses, taxis and trams. Getting around was not a problem at all.
Staff speaks English — My Portuguese sucks (I'm working on it!!) and I appreciated being able to communicate effectively with the staff in English.
Quiet —  I'm not sure if this is due to it being the off season and low occupancy, but there wasn't any wild and craziness going on.  I definitely appreciated it after those long days/nights out and about the city; I slept like a baby.

The Cons (I'm really stretching on these)

They charge for towels — Granted it's only 1 Euro a day, but just thought you should know.  I brought my own, so no worries for me.
No private bathrooms — If you must have a bathroom to yourself, sorry.
Wi-fi does not work in all rooms — I had to go down the hall to the community room to get a signal, which was no biggie.  I got to meet and interact with some of the other guests while knocking out a few to dos.
Lots of stairs — Lisbon is a city built on 7 HUGE hills, which means buildings go up and walking around can be a bit tiring.  My room was on the third floor.  Word of advice, pack light.
Cash only — This is the case with most hostels, but it sure would be nice if they took AMEX so I could earn more travel rewards.
When your travels bring you to Lisbon, Portugal, I would highly recommend you give Albergo Odisseo a call. The friendly staff, exceptionally clean accommodations and central location make it an ideal budget friendly choice! You can also connect with them on the Albergo Odisseo Facebook page as well.
Today there is lot of unsuspected condition which force individuals to take medicines. What can we order without prescription? There are sundry drugs for male impotence cure. If you're concerned about sexual problem, you have to learn about "viagra substitute" and "where to buy viagra". What is the most essential data you must know about "how to get viagra"? Don't forget, regard "where to get viagra". What are the treatments sexual problems? The most common undesirable side effects of such medications like Viagra is stuffy or runny nose. Contact local soundness care provider if you have any dangerous side effect that bothers you. Do not keep out-of-date medicaments. Take them to your local apothecary which will dispose of them for you.
Share the love...

0


0

0

0

0