If you haven't heard the statistics, let me educate you: Only 30% of US Citizens hold valid passports, compared to 60% in Canada and 75% in the UK.  The US numbers have been on the rise, but it's just not enough.
I personally find it a little disheartening that 42% of Americans have a smart phone, which in most instances costs more than the $135 passport fee.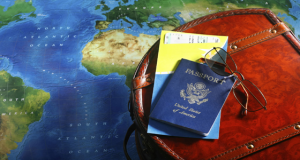 In her recent visit, First Lady, Michelle Obama urges Howard University students to travel abroad as "[travel/studying abroad] isn't just an important part of a well-rounded educational experience. It's also becoming increasingly important for success in the modern global economy. Getting ahead in today's workplaces isn't just about the skills you bring from the classroom. It's also about the experience you have with the world beyond our borders—with people, and languages, and cultures that are very different from our own."
For me, there's nothing more satisfying than experiencing a new culture in real life as opposed to through a book. Sure, you can watch my video of the amazing NYE celebration in Rio de Janeiro, Brazil or check out my photos of beautiful Ocho Rios Jamaica, but I'd rather you experience it for yourself.
If you don't have a passport and you are ready to explore the world, here's how to get a US passport!
1.  Gather the following documents:
Completed Passport Application Form, DS-11
Evidence of Citizenship — Your birth certificate is sufficient.  If you can't find your birth certificate, you can order a full certified official copy from your state's Vital Records Department. Order Georgia birth certificates here.
Proof of Identification — Government issued ID or Driver's license is ideal.  You will need to show the identification and provide a photo copy of the front and back to submit with your application
$135 application fee  — This covers both the application and execution fee.  Fees are subject to change so act now before it goes up again!
2 Passport sized photos — You can get these from Kinkos or at the post office among other locations for $13.
2.  Head over to your closest passport acceptance facility to complete the process.  (Don't know where that is?  Search here.)  In less than six weeks, you will have your ticket to explore the world!
If you have any questions or need help getting it done, please review the U.S. Department of State website or reach out to me.  I'd be happy to help!
Got your passport already? Want to help others do the same? Support the Passport Party Project and Get Your Passport Facebook Page!
Today there is lot of unsuspected state which force individuals to take medicines. What can we order without prescription? There are sundry drugs for male impotency cure. If you're concerned about sexual problem, you have to learn about "viagra substitute" and "where to buy viagra". What is the most essential info you must know about "how to get viagra"? Don't forget, consider "where to get viagra". What are the treatments sexual problems? The most common undesirable side effects of such medications like Viagra is stuffy or runny nose. Contact local soundness care provider if you have any dangerous side effect that bothers you. Do not keep out-of-date medicaments. Take them to your local apothecary which will dispose of them for you.
Share the love...

0


0

0

0

0