Rio de Janeiro Brazil: City of God, City of Man
For most of 2010, I had mentally prepared to travel to Brazil. I regularly day dreamed about visiting Rio de Janiero, laying on the beaches of Ipanema and Copacabana, taking in the breathtaking view from atop Sugarloaf and Christ the Redeemer statue and stuffing my face with best feijoda Rio has to offer. Unfortunately, due to my lackadaisical approach to planning (read: not getting my Brazilian visa squared away in a timely manner), my first Brazilian escapade was pushed back until the very last week of 2010. My laziness once again paid off because that meant New Year's Eve in Rio, the second largest celebration in the city after Carnival!
In the weeks prior to my departure, I happened to run into several individuals who cautioned me about my trip and how dangerous the city would be for two women travelers (my good friend, old college roommate and work colleague would be traveling with me), especially since we don't speak Portuguese. I was amazed that one individual even advised me to change my ticket until we could find a man to travel to Rio with us. Can you believe that?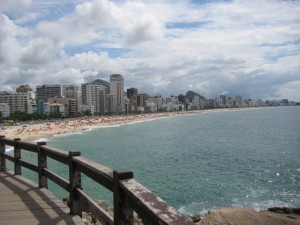 Now I'm Ms. Adventure (or at least I pretend I am) and not typically afraid of roaming around a new place alone during the day or even at night. I guess I'm just that intimidating (all 5'3", 105 lbs of me). Just three short months before my departure to Rio, I traveled to Bogota, Colombia alone and had a blast and no incidents, so why was I starting to become a little scared?
Well for starters, I've seen both City of God and City of Men, and the thought of running into some of these crews would scare the pants off anyone. It also didn't help that every day the news was broadcasting more and more headlines of the danger and acts of violence "running rampant" in Rio. It was so bad that the military had to come in with tanks to settle all of the commotion.
The part about the tanks is true and I've heard first hand accounts of how dangerous some favelas can actually be, but these incidents aren't in areas typically visited by tourists. I quickly got over all of the negative remarks, packed my bags and prepared for an amazing time in Rio.
After the first few hours in the city, I was completely at ease. Rio is no different than any other large city. In the first few days, we saw all of the major attractions and even trekked a little off the normal tourist path and enjoyed mixing with the locals and several Couchsurfers we met along the way.
If there was any expectation of problems, I thought for sure it would be during the New Year's Eve celebration. With over 2 million people gathered along the beaches of Copa and Ipanema and plenty of alcohol being consumed, it seemed like the best time for something to go wrong, but it didn't. January 1st news even reported that zero incidents were reported again for Reveillon. I wonder if NYC could say the same…
Rio is a beautiful place and Cariocas are generally wonderful people that love life and having a good time. Rio will continue to be an exciting place to visit as the city prepares for World Cup 2014 and the Olympics coming in 2016, so get your visa and book your trip today! And remember to keep these tips in mind to ensure you have a fun time and stay safe:

• Keep a copy of your passport with you at all times.

• Register your trip with the Department of State (or your local government agency)

• Learn a few basic Portuguese phrases (at a minimum) to help you get around

• Exercise the same safety precautions as you would in any city or when traveling alone
Enjoy Cidade Maravilhosa! Bom Viaje!
Originally posted at Do It While You're Young
Today there is lot of unsuspected state which force individuals to take medicines. What can we order without formula? There are sundry drugs for male emasculation cure. If you're concerned about sexual problem, you have to learn about "viagra substitute" and "where to buy viagra". What is the most substantial info you must know about "how to get viagra"? Don't forget, consider "where to get viagra". What are the treatments sexual problems? The most common undesirable side effects of such medications like Viagra is stuffy or runny nose. Contact local health care purveyor if you have any dangerous side effect that bothers you. Do not keep out-of-date medicaments. Take them to your local apothecary which will dispose of them for you.
Share the love...

0


0

0

0

0